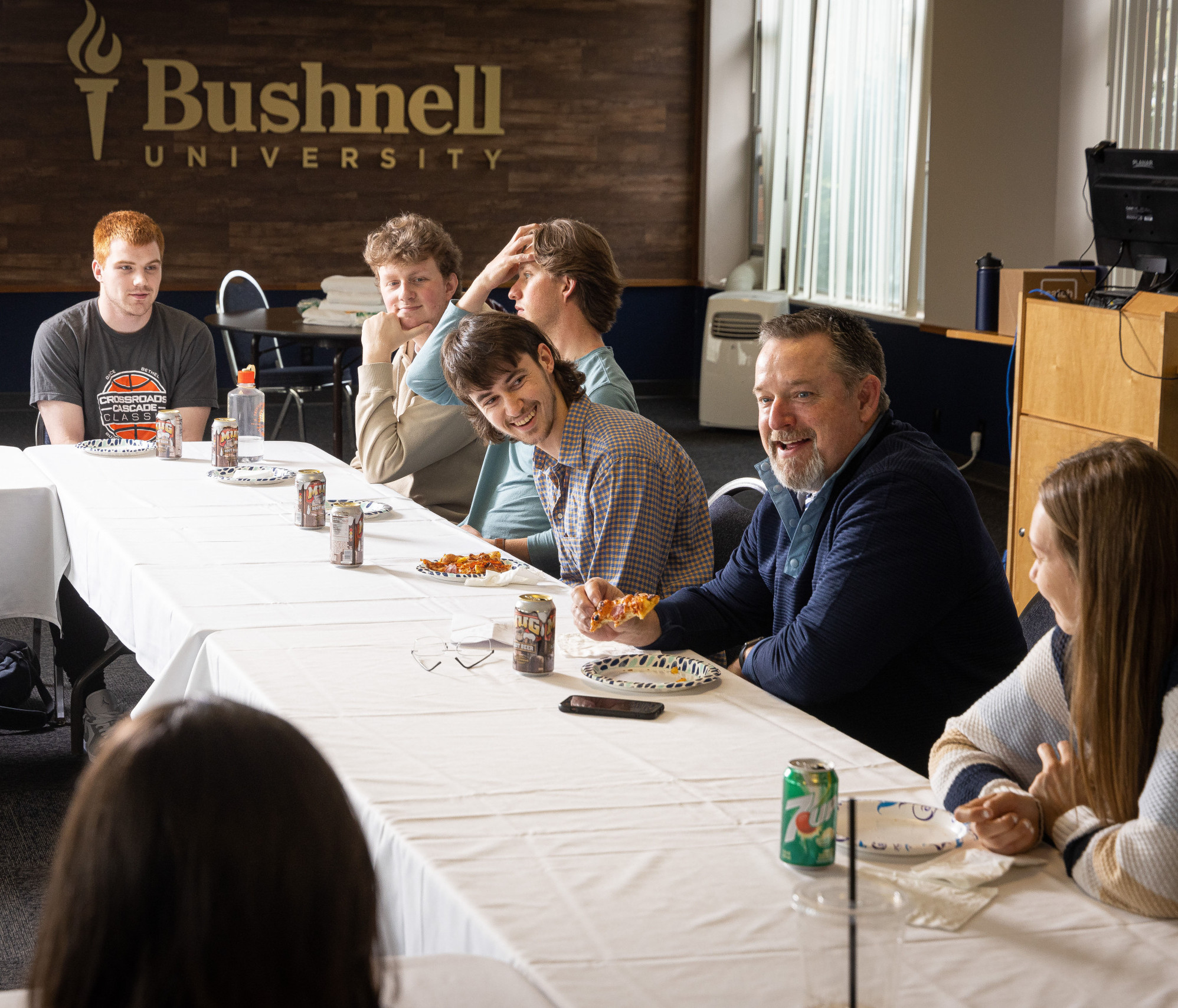 President Womack speaking with Bushnell students
What, in your opinion, makes Bushnell University (specifically) and Christian higher education (generally) unique?
Kelly Monroe-Kullberg, the founder of The VERITAS Forum at Harvard proposed "the search for truth in response to the most important questions of life" as the highest mission for higher education. What does it mean to be human? Why is there evil and suffering in our world? Can meaning be found in life; in death? Does the individual life have meaning? The hunt for answers to such questions, void of a perspective of faith, is truncated at best…at worst it represents a dishonest pursuit.
Institutions that have defined themselves as Christian colleges or universities have long espoused a foundational appreciation for the integration of faith and learning. Regardless of subject matter, be it the liberal arts and science, theology, business, or the helping professions, the examination of each is enhanced by study within the perspective of Christian faith. With faith as the lens through which we view subject matter, ourselves, and our world, we recognize that knowledge and meaning are gifts from our Creator.
As a young master's student years ago I was, in part, motivated toward a lifelong career in Christian higher education by what Dr. Monroe-Kullberg wrote about the honest pursuit of truth:
"Today our constant challenge and privilege, whether we're in a secular or a Christian school, is to revive and to nurture the knowledge of truth as a Person – as the Life-Giver. As the relentless lover. The author who enters the play. Truth who awakens wonder and the mind. Truth who is a revolution of tenderness for the least and the lost and all of humble heart. Truth that connects us to the heart and mind and power of God by his Holy Spirit within us. Truth who exchanges his wholeness for our brokenness, who loves us enough to die for us. Truth who rises from the grave because his love is stronger than death. Even now."
 Those of us inspired to engage the educational mission of Bushnell face this challenge and privilege today – to seek truth not only regarding subject, philosophy, theory, or need, but (and most importantly) in the person (the life and teachings) of Jesus Christ. In doing so we can inspire in our students an attitude and character of inquiry surrounding the deeper questions of life – meaning, purpose, and faith. The pursuit of such a character and attitude continues to inspire me as an educator and is at the heart of my hope for our students in their search for God's call on their lives.
 Why is it important to maintain the option of Christ-centered education among all the other choices within higher education?
Secular higher education generally maintains no consensus on what is true due to the denial of the existence of divine Truth. What is true for one may not be true for another. Yet, through the lens of Christian faith, we realize that truth is not going to be found within ourselves – we will always be disappointed if we search for it there. For those of us who lead and teach at Bushnell, we reinforce the truth that wisdom, faith, and service are not about the individual. What's learned, developed, gained, and realized here must be surrendered to its right use – chasing after the "wisdom of God that is our righteousness, holiness, and redemption" (1 Corinthians 1:30) – this is not something we can achieve on our own.
The unique and necessary value for Christ-centered education requires the marriage of two things: first, an honest pursuit of the questions that matter to a well-examined life in the pursuit of Truth, and second, a surrender to the right use of that knowledge manifest in a calling worth pursuing. Therefore, we must align our mission and our environment to those goals. We believe all students are worthy of our focused attention because each is an image-bearer of God and a gift to us from God. They are each worthy in and of themselves, no matter how they perform as students, no matter their gifts or deficits. Students are genuinely known and loved, and we create a space in which faculty and staff help them discover their giftedness, seek after and answer God's call in their life. We attempt, with great humility, to create an atmosphere for God to transform lives.
What makes a Bushnell University graduate different or special? 
My hope and prayer has long been that of the Apostle Paul recorded in Philippians 1: 9-11. "That [their] love would abound more and more in the knowledge and depth of insight, so that [they] may be able to discern what is best and may be pure and blameless for the day of Christ, filled with the fruit of righteousness that comes through Jesus Christ – to the glory and praise of God." (NIV). Our prayer for students is that they may be able to choose wisely what God will have them do and that they would know where the fruit of righteousness comes from. It is so important to reinforce this during the critical years of college, years that serve as a bridge for the tender transition between adolescence and adulthood, when so many important decisions are being made and so much character is being formed.
I think this manifests in what I often hear from employers – our graduates serve well. They show up on time, they respect others, they respond well to their supervisors, they contribute to their peers, they think critically and evaluatively, they speak effectively. We know they are gifted and capable, but they are also simply good employees who can be counted on. We know they are intelligent and sought after by employers. But more than that, they look beyond a paycheck for ways to serve and love and care for and contribute to the world. This makes a great employee, but it also makes a great friend, a great spouse, a great community member, a great parishioner.
How does a Bushnell education foster wisdom, faith, and service? 
It is the heart of our mission – to chase after the wisdom of God, centered on faith in Christ, and be graduated to service in His kingdom. At Bushnell, faith and learning are integrated in all areas of the collegiate experience. In one way of thinking, what a student chooses to major in while here is secondary. Of course, students need to be prepared for specific service, but more importantly, I want them to walk away with the knowledge of who they are in Christ.
The biblical lens through which we teach and learn (we continue to require biblical studies as part of the undergraduate experience) gives us the tools to navigate our callings. Our faculty are experts in their fields, who have a professed, personal faith in Christ and apply their faith to the instruction of their subject matter. Our coaches help our students understand what it means to compete as Christians. Our music instructors teach what it means to perform as Christians and to what purpose. Our student life staff encourage the examination of faith as it pertains to students' daily lives. We integrate our Christian faith in our studies, in our relationships with one another, and in our motivations and aspirations. We want our students to experience how our Christian faith is manifest in the pursuit of wisdom, the exercise of faith, and a life of service.
 What makes you most hopeful about this generation of college students?
Despite the barrage of conflicting messages our students face, I remain hopeful. Despite the cacophony of hopeless noise, students today are resilient in their commitments. You see their hearts, their willingness to engage, and their desire to stand in the gap. They are, to their credit, willing to take on old problems with new paradigms and they remain willing to being transformed by Christ.
 What gets you up every morning for this job?
The chance to witness to how God transforms the lives of our students. I look forward every day to working with people whom God has brought here to give energy to the Bushnell mission.
 What would you be doing if you weren't president of Bushnell University?
I'm not sure I spend much energy thinking about that. I just want to do well today. My Grandpa Mac (Mom's father) used to say, "If you're going to sweep the floor, sweep it well." That has resonated with me to this day.