Following a nationwide search, Bushnell University has selected Dr. Latrissa Lee Neiworth as its new dean of the School of Business, Leadership and Technology and professor of Business and Leadership. Dr. Neiworth is a renowned educator, researcher, and leadership advocate with more than 25 years of experience in these disciplines.  In 2021, she was named one of the Top Visionaries in Education at the international Global Forum for Education and Learning. She assumes her position in the School of Business, Leadership and Technology at Bushnell University on March 14, 2022.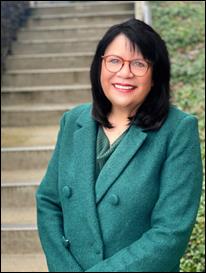 "I am very excited about the background, experience, and leadership skills that Dr. Neiworth brings to this position," remarks Dr. Dennis Lindsay, Bushnell University Vice President for Academic Affairs.  "Dr. Neiworth is the right person at the right time to pick up the baton and to build further upon the excellent foundation that has been laid by her predecessor." Retiring Dean David Walsh adds: "It is with great enthusiasm and joy that the students and faculty of the School of Business, Leadership, and Technology welcome Dr. Neiworth. It has been a privilege to have served as dean, and as I retire, I am so pleased to be succeeded by someone of Latrissa's competence, character, and commitment."
Dr. Neiworth has served as the Dean of Business at Warner Pacific University since 2018. During her tenure there, Dr. Neiworth quadrupled the degree offerings  in undergraduate, Adult Degree majors and graduate degrees and started a one-of-its kind 4+1 MBA program; developed partnerships with area community colleges and high schools, developed a strategic plan and communications strategy to increase enrollment, created an Internship Fair, and began leading a process for department accreditation involving local business partners.
Dr. Neiworth holds a Doctor of Education in Organizational Leadership from Pepperdine University, in Los Angeles, CA; a Master of Arts in Education in Curriculum and Teaching from Fresno Pacific University, in Fresno, CA;  a Bachelor of Arts in Journalism with a minor in Economics from Oregon State University in Corvallis, OR and an Associate Degree in Journalism Arts Technology from Mt. Hood Community College, in Gresham, OR.
Among her many accomplishments in education, Dr. Neiworth has served as a Dissertation Chair, methodologist, and committee member for more than two dozen doctoral dissertations in leadership, business, education, and technology over the past five years and continues to occasionally teach doctoral level organizational leadership and change courses at Pepperdine University in Los Angeles, CA.  Previously, she worked at the University of Washington coordinating the regional Leadership Institute serving Oregon, Washington, Idaho, Alaska, Montana, and Wyoming through the Northwest Center for Public Health Practice. She has also served as a consulting curriculum developer for international online curriculum provider Study.com and is proficient in multiple teaching modalities.
Prior to her career in higher education, Dr. Neiworth served in a number of public service and government positions in management and communications for the State of Oregon. She also owned and operated several successful business enterprises including a corporate training and consulting service, a specialty retail store, and a documentary production house.
A prolific writer, Dr. Neiworth has published hundreds of journalistic articles over the years, as well as written book chapters and research pieces for peer-reviewed journals. An Emmy-nominated documentarian, she also produced and directed a number of award-winning documentaries and news pieces during her previous print and broadcast journalism career.
Key among the many attributes that attracted Dr. Neiworth to Bushnell University was its mission — transforming lives — and its devotion to offering a Christ-centered educational environment.  "The university's emphasis on wisdom, faith and service spoke to me very clearly. Being a champion in these areas is especially important as we look to preparing students of all backgrounds to lead and make a difference in our world," said Dr. Neiworth.
A lifelong Christian, Dr. Neiworth has been a Eucharistic Minister, Catechism Instructor, Lecturer, and Faith Leader at several Catholic Churches throughout the years, as well as an active participant in World Vision's African Diaspora. A first-generation college student, she has served on several diversity councils at her various workplaces, is a Qualified Administrator of the Intercultural Development Inventory (IDI) and is a certified School Conflict and Management Mediator.