Dr. Reed Mueller, Vice President of Academic Affairs, to deliver address at first commencement in new role.
Winter 2022 Commencement Program
Eugene, Ore.—Dec 16, 2022—Bushnell University's Board of Trustees will confer 50 baccalaureate degrees and 42 master's degrees during its Winter Commencement on Friday December 16, 2022, at 6 pm in the Morse Center located at the corner of Alder Street and East 11th Avenue.
The first cohort of ten Accelerated Bachelor of Science in Nursing (ABSN) students will receive their diplomas after having spent a full year in intensive course work and skills training. These students have benefitted from the Nursing Skills Practice Lab located in Womack Hall.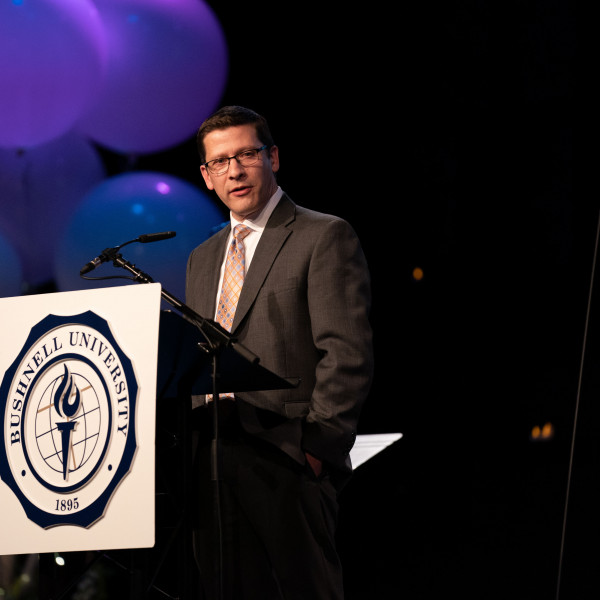 Vice President for Academic affairs at Bushnell University Dr. Reed Mueller will deliver the commencement address. This is Dr. Mueller's first commencement in his new role.
Dr. Mueller brings a depth of experience in higher education program leadership, teaching and faculty supervision as professor and chair of the Department of Psychology at Concordia University Portland ('12-'20), as well as on the psychology faculty at Northwestern College Iowa ('21/'22) and at Bushnell ('20/'21). His consulting and research as Vice President and co-owner of Pacific Research & Evaluation in Portland ('99-'13) aids the success of the University and its students, staff, and faculty, as will his service as Lead Pastor of Columbia Ridge Community Church in Troutdale, OR ('99-'13).
He graduated with a B.A. in Psychology and Biblical Studies from our sister institution, Hope International University (Pacific Christian College) and holds a Ph.D. In Clinical Psychology from Brigham Young.  He completed post-doctoral training at Oregon Health & Science University (OHSU) in Medical Psychology, serving as Chief Resident ('96-'98) and has produced both basic and applied research works.
Reed is married to Dr. Erin Mueller, who serves as a psychology faculty member at Bushnell. Together they are the proud parents of a son and daughter who are both currently college students.
Commencement Ceremonies will be live streamed on Friday, December 16, beginning at 6 pm at https://live.bushnell.edu/. Vehicle parking is available in the Morse Center parking lot, Womack Hall parking lot, and on Alder and Kincaid Streets.
About Bushnell University
Founded in 1895 Bushnell University helps students discover and answer God's call on their lives. Devoted to offering a Christ-centered environment, Bushnell encourages students to grow in wisdom, informed by faith, and leading to lives of service. Accredited by the Northwest Commission on Colleges and Universities, the University was founded by pastor-educator Eugene C. Sanderson and pioneer businessman and church leader James A. Bushnell. Bushnell is the largest private university in Eugene's vibrant university district. The University offers bachelor's and master's degrees for undergraduate and graduate studies through course formats on campus, online, and evening, as well as online programs for MBA, MA in Leadership, and M.Ed.  More information about the University is available at www.bushnell.edu