George Walcott is the associate head coach for track and field at Bushnell University and has been with the program since 2013. In this Q and A, he shares what motivates him and what his role at Bushnell looks like.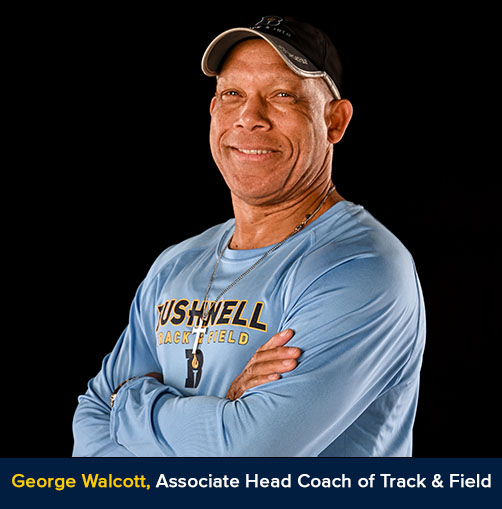 George Walcott is passionate about his faith and helping young men and women grow. As associate head coach, Walcott is uniquely positioned to introduce students to Bushnell University. Serving as a recruiter for track and field, he is privileged with the opportunity of speaking with student-athletes about attending a private Christian University, while often serving as the first impression for Bushnell University with those prospective students. He sees his role as "multi-faceted", putting a heavy focus on representing Jesus Christ and Bushnell University.
Tell us more about your role as associate head coach at Bushnell University. 
My daily task as associate head coach of track and field is multi-faceted. First and foremost, my number one responsibility is to represent Jesus Christ and Bushnell University in a way that is pleasing and acceptable in the eyes of the Lord. I strive to be an example of his Love, Goodness, Mercy, and Grace in all that I say and do. I'm responsible for the recruitment of new student-athletes in all of the non-distance events such as the sprints, jumps, hurdles, multi-events, and relays. I'm constantly sending out recruiting packets to prospective student-athletes all over the nation. I spend a tremendous amount of time on the phone with recruits and their parents, telling them about Bushnell University and what we have to offer as a private Christian University. I plan and implement daily workouts for our non-distance track & field student-athletes, and I'm also in constant communication with our student-athletes concerning their responsibilities spiritually, academically, and athletically. I also get to mentor and encourage our student-athletes daily, and this is something I do not take lightly.
What motivates or inspires you?
I'm motivated and inspired by the fact that the Lord has called me to do this job as Head Track & Field Coach and he expects nothing less than me to give my all for him. I want my service here at Bushnell to be a reflection of Ephesians 6:6-7, which states "Not by the way of eye-service, as people-pleasers, but as a bondservant of Christ, doing the will of God from the heart, rendering service with a good will as to the Lord and not to man." If I can continue to work with this attitude for the Lord, then my motivation and inspiration will never be lacking. I'm also inspired by the fact that I have the opportunity to make a positive impact in the lives of so many young men and young women. Helping them to attain their goals is absolutely awesome and very satisfying.
"My favorite thing about Bushnell University is the relationships I've been able to develop over the years. Relationships with coworkers, students, student athletes, faculty members, etc."
-George Walcott
What is your favorite thing about Bushnell?
My favorite thing about Bushnell University is the relationships I've been able to develop over the years. Relationships with coworkers, students, student-athletes, faculty members, etc. I also love the fact that the people here at Bushnell are genuine, loving, and kind. The small close-knit community atmosphere here is also very special, and I always look forward to coming to work each day. To God Be The Glory!
What is the most difficult aspect about your job?
Being a track coach at the collegiate level is truly time-consuming and very challenging. Between recruiting, practices, and traveling to track meets, a coach usually spends a lot of time away from family and loved ones. This can be very difficult at times, so being able to stay connected with family while taking care of the on-the-job responsibilities, is crucial. My family is very important to me, so I must make sure that I'm not neglecting them while doing this job.
What is some advice you would give to students that want to coach someday?
My advice to anyone student who has a desire to coach someday, is to go for it. However, the love, passion, and desire to coach must be there. Being a coach has so many challenges, and if the desire isn't there, it can become overwhelming and burdensome. Coaching teaches us so much about life, and it forces us to continue our search for wisdom, knowledge, and understanding. Coaching enables us to focus on helping others to achieve their goals, dreams, and aspirations, and in doing so we learn to be servant leaders.
About Bushnell University
Founded in 1895 Bushnell University helps students discover and answer God's call on their lives. Devoted to offering a Christ-centered environment, Bushnell encourages students to grow in wisdom, informed by faith, and leading to lives of service. Accredited by the Northwest Commission on Colleges and Universities, the University was founded by pastor-educator Eugene C. Sanderson and pioneer businessman and church leader James A. Bushnell. Bushnell is the largest private university in Eugene's vibrant university district. The University offers bachelor's and master's degrees for undergraduate and graduate studies through course formats on campus, online, and evening, as well as online programs for MBA, MA in Leadership, and M.Ed. More information about the University is available at www.bushnell.edu.
About Bushnell University Beacons
At Bushnell University, our focus is on developing the whole athlete: academically, athletically, and as Champions of Character. We are a Christ-centered athletic department, and He is central to everything we do. Above all else, we desire to give student-athletes the opportunity to forward their progress toward achieving a maturing identity in Christ. By encouraging the pursuit of excellence in the classroom and on the field of play, we desire our students to honor the gospel of Christ. As a member of the Cascade Collegiate Conference, Bushnell University is affiliated with the National Association of Intercollegiate Athletics (NAIA). More information about the Beacons is available at www.bushnellbeacons.com.