Ally Goertzen is an assistant professor of school counseling at Bushnell University and has been at the university since 2019. In this Q and A, she shares her role at Bushnell University and what led her to a career in school counseling.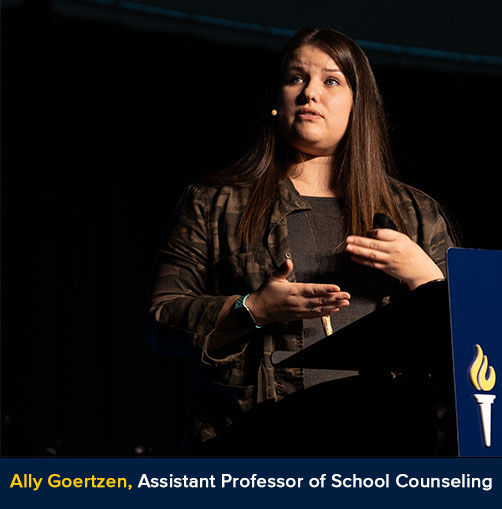 Goertzen is committed to overcoming mental health issues and is enthusiastic about empowering others to achieve their goals. As an assistant professor, Goertzen has the privilege of working closely with students and seeing their growth throughout their time at Bushnell. Serving as an educator, she is fortunate to impact the next generation, providing guidance to those students to make positive changes in the world as they enter their careers.
Tell us more about your role as a professor here. 
I teach in the School Counseling program, which is a part of the School of Education. I have been here for four years and loved it more each year! I teach a majority of the courses in the program, which allows me to get to know the students really well. I also have had the opportunity to supervise students while they are in their internships, which allows me to see their skills put to practice firsthand. That is always such a rewarding time! 
What led you to this career path and specifically counseling? 
I have always had a heart and a passion to empower others to achieve their goals, no matter how big or how small. As a school counselor, I was able to work with students every day on those goals. It could have been a goal to earn certain grades, get into a specific college, or feel confident giving a presentation; or it could have been goals around navigating friendships, breaking familial cycles, or overcoming some mental health issues. When I was in my undergraduate, this career path presented itself as an opportunity to do exactly that!
"I have always had a heart and a passion to empower others to achieve their goals, no matter how big or how small. As a school counselor, I was able to work with students every day on those goals."
–Ally Goertzen
What does a typical workday look like for you?
My typical work day looks a little bit different than most full-time faculty since I only teach at night. This means I come in a little bit later than most, since I am staying later as well. I spend a lot of time in my office grading work that has been turned in, answering emails, and preparing the lecture/lesson for the next class. Half of the classes I teach are online, so I also make adjustments to my online classes as needed. Lately, I have been doing a lot for the program as a whole. I work on accreditation-type work often, which includes pulling and analyzing data. I am also the student research team coordinator, which is a program that we have implemented in the school of education to track data from our graduates. That takes up a bit of my time throughout the week as well. I do not have a set schedule for when I work on each of these pieces of my job, so it's really important that I am prioritizing and continuously checking things off my to-do list.
What inspires or motivates you about your career? 
The thing that inspires me most is the fact that the work that I am doing is directly impacting "the next generation." The students that I work with are out in the field working directly with K-12 students, who are the ones that are going to impact our future. There are so many hard things that K-12 students have to go through, so if I can help equip some wonderful school counselors to be the ones that help younger students navigate those hard things, that will keep me motivated to continue.
How did your undergrad prepare you for this job? 
My undergraduate degree was in Psychology. Not only did it serve as a prerequisite to my master's degree in school counseling, it prepared me in so many other ways to simply work better with people! I am able to understand the way that humans work/function/think a little bit better. It also helps me recognize that some of the tougher attributes that people might have (you know – those things that really irritate you about someone) might actually be biological and not something they can control. This gives me an extra boost of grace and empathy towards others that may not have been there before.
About Bushnell University
Founded in 1895 Bushnell University helps students discover and answer God's call on their lives. Devoted to offering a Christ-centered environment, Bushnell encourages students to grow in wisdom, informed by faith, and leading to lives of service. Accredited by the Northwest Commission on Colleges and Universities, the University was founded by pastor-educator Eugene C. Sanderson and pioneer businessman and church leader James A. Bushnell. Bushnell is the largest private university in Eugene's vibrant university district. The University offers bachelor's and master's degrees for undergraduate and graduate studies through course formats on campus, online, and evening, as well as online programs for MBA, MA in Leadership, and M.Ed. More information about the University is available at www.bushnell.edu.