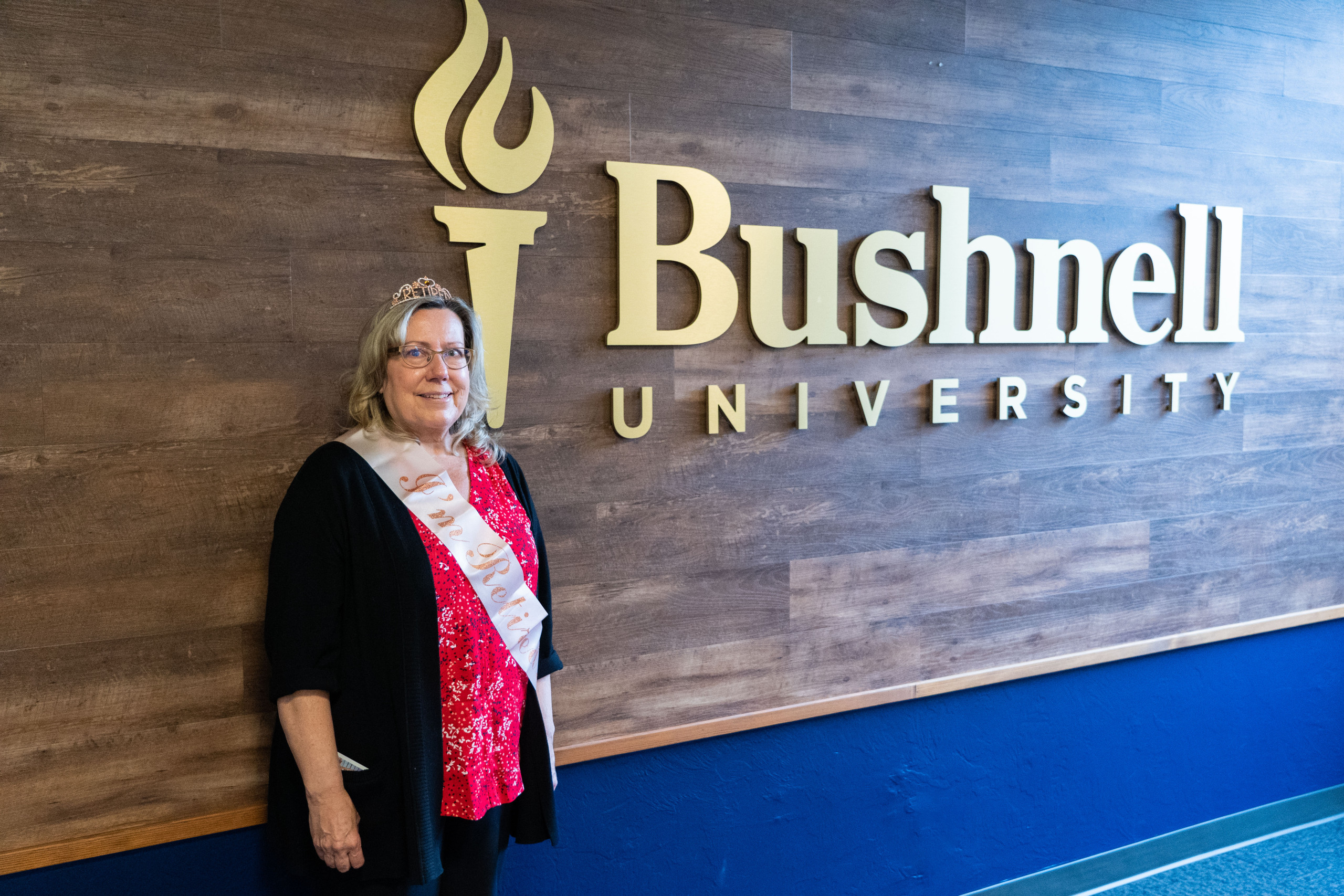 EUGENE, Ore. – After 27 years of dedicated service, Karen Head officially retired from her position as the Public Services Supervisor at Bushnell University earlier this month. She has been an instrumental part of the university's success, and her presence will be greatly missed. 
Throughout her career, Ms. Head has played an important role in shaping the university's culture and making it a welcoming and inclusive place for students. She has worked tirelessly to create a positive and supportive environment, always putting the needs of students first. 
Reflecting on her time at Bushnell University, Ms. Head said she greatly admires Maya Angelou and has aspired to live out one of her famous quotes, "I've learned that people will forget what you said, people will forget what you did, but people will never forget how you made them feel." 
Ms. Head's contributions have not gone unnoticed. Angela Doty, Dean of Career & Academic Resources at Bushnell University, praised Karen for her work, saying, "During her tenure, Karen has continually demonstrated a commitment to lifelong learning. She embodies a love for reading, learning, and growing. This passion is evident in her development of the Kendall Collection, a curated section of children's books within the Kellenberger Library." 
Doty went on to say, "Karen has always gone above and beyond to ensure that our students receive the best possible education and support. Her positive attitude and unwavering commitment to the university's mission have left a lasting impact on everyone she has worked with. We wish her all the best in her well-deserved retirement." 
As Ms. Head begins this new chapter in her life, she plans to focus on spending time with her family and pursuing her passions. She expressed her gratitude for the support and encouragement she has received from the Bushnell University community, saying, "I came to this university 27 years ago for various reasons, I stayed because of the people, they are the best I have worked with and served alongside" 
Ms. Head's retirement marks the end of an era at Bushnell University, but her legacy will continue to inspire and guide future generations of students and staff. We wish her all the best in her future endeavors. 
About Bushnell University 
Founded in 1895 Bushnell University helps students discover and answer God's call on their lives. Devoted to offering a Christ-centered environment, Bushnell encourages students to grow in wisdom, informed by faith, and leading to lives of service. Accredited by the Northwest Commission on Colleges and Universities, the University was founded by pastor-educator Eugene C. Sanderson and pioneer businessman and church leader James A. Bushnell. 
Bushnell is the largest private university in Eugene's vibrant University District. The University offers bachelor's and master's degrees for undergraduate and graduate studies through course formats on campus, online, and hybrid formats. More information about the University is available at www.bushnell.edu.