We've all had a moment when the compassion and care of a nurse has touched our lives. Perhaps a smile while caring for a new baby, a calm voice in an emergency room, support during an unexpected diagnosis, or prayer while holding the hand of a loved one for the last time. Nurses help heal our losses, comfort our fears, and save lives with both medical skill and a heart that beats to serve others first. It is a worthy profession, advanced through education and an authentic reflection of Bushnell University's core mission: Wisdom, faith, and service.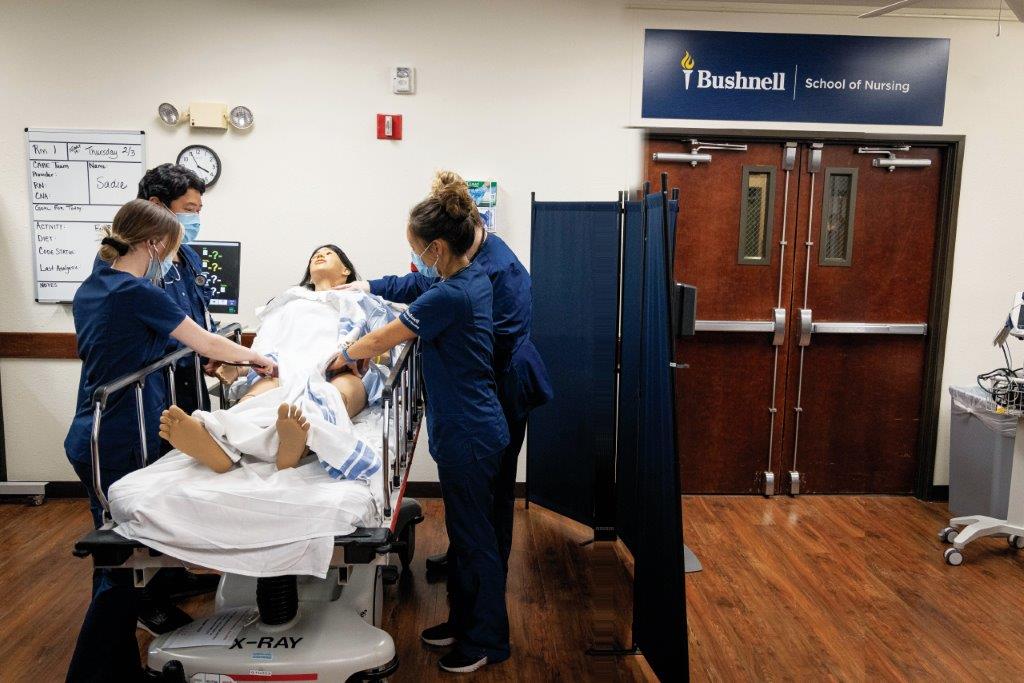 Bushnell has a heritage of healing. Between 1908 and 1936, the University constructed and operated Pacific Christian Hospital—known today as PeaceHealth Sacred Heart Medical Center. In 2015, Bushnell revived the nursing program through establishment of the RN to BSN program. A Master of Science in Nursing (MSN) was added in 2018, with a focus on leadership in health systems and nursing education. Bushnell also offers an RN to MSN and a post master's certificate in nursing education.  
Most recently, the University launched the accelerated Bachelor of Science in Nursing program which allows those with a bachelor's degree in a related field to become qualified as a nurse in just 12 months. With other nursing education programs in the state at capacity and an increased demand for nurses, this program will become a conduit to fill the regional nursing shortage as it provides 32 bachelor's-educated nurses each year. 
Although the program is accelerated, there is no shortage of clinical hours, a feature our partners at McKenzie-Willamette, PeaceHealth, Kaiser, and others understand as critical to fully prepare a nurse in acute care. The nursing skills labs is the cornerstone of Bushnell's nursing program and provides a complete clinical space for students to practice and train.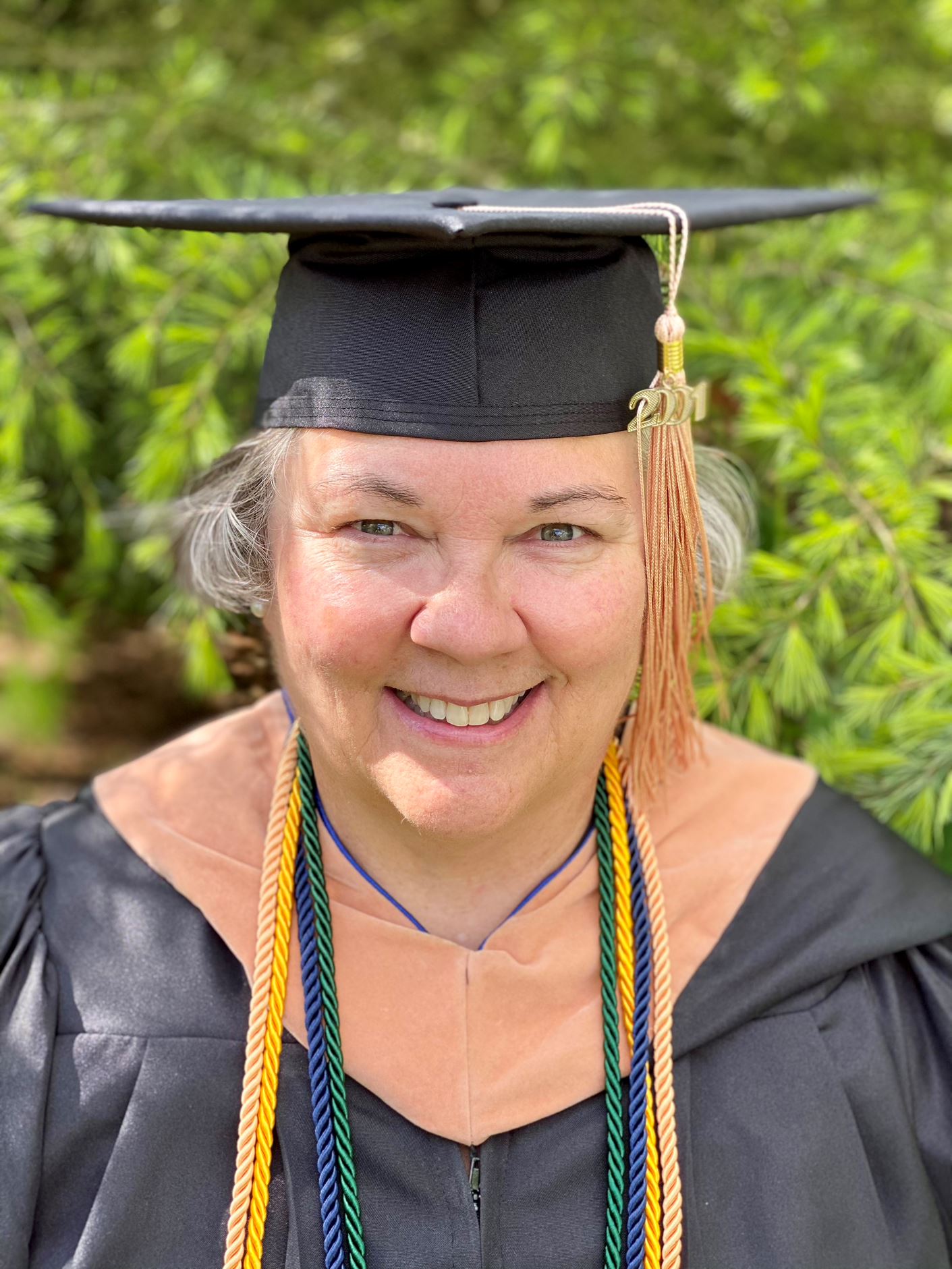 The Bushnell difference, however, is heart and commitment, not merely skills. Ginger Banks, MBA '01, RN, MSN has been teaching a variety of courses at Bushnell for 21 years. As a trauma nurse who served in Vietnam and in the Reserves, she has seen it all. Banks' experiences speak to the "incredible depth and skill" that sets a Bushnell University nurse apart. 
For Banks, it is the heart, commitment, and love of the nursing career that unites the community of nurses at Bushnell. She says, "We get to see and be connected to the growth of our students. It's the best feeling ever—the feeling of doing something worthy. These programs communicate self-realization as well, since you can't start and finish as the same person."  
Alumnus Adam Wright graduated with his BSN in 2015 and MSN in 2020. Wright is an example of how furthering education immediately advances a nurse's career. Within 10 months of completing his bachelor's degree, he took on a new leadership position at Legacy Health. He is now a Nurse Manager at Meridian Park Surgical Specialties with extensive experience and education in critical care, emergency nursing, surgical specialties programs, and vascular access. Wright says he could "take every component of graduate school and apply it to the field. All of it. It is comprehensive and hard, but perfect." 
The close-knit community on campus is another Bushnell distinctive. Wright ponders, "In what other program do you have direct access to the program director?" Dr. Linda Veltri, Dean of the School of Nursing, has created a culture of excellence that inspires her students and faculty alike.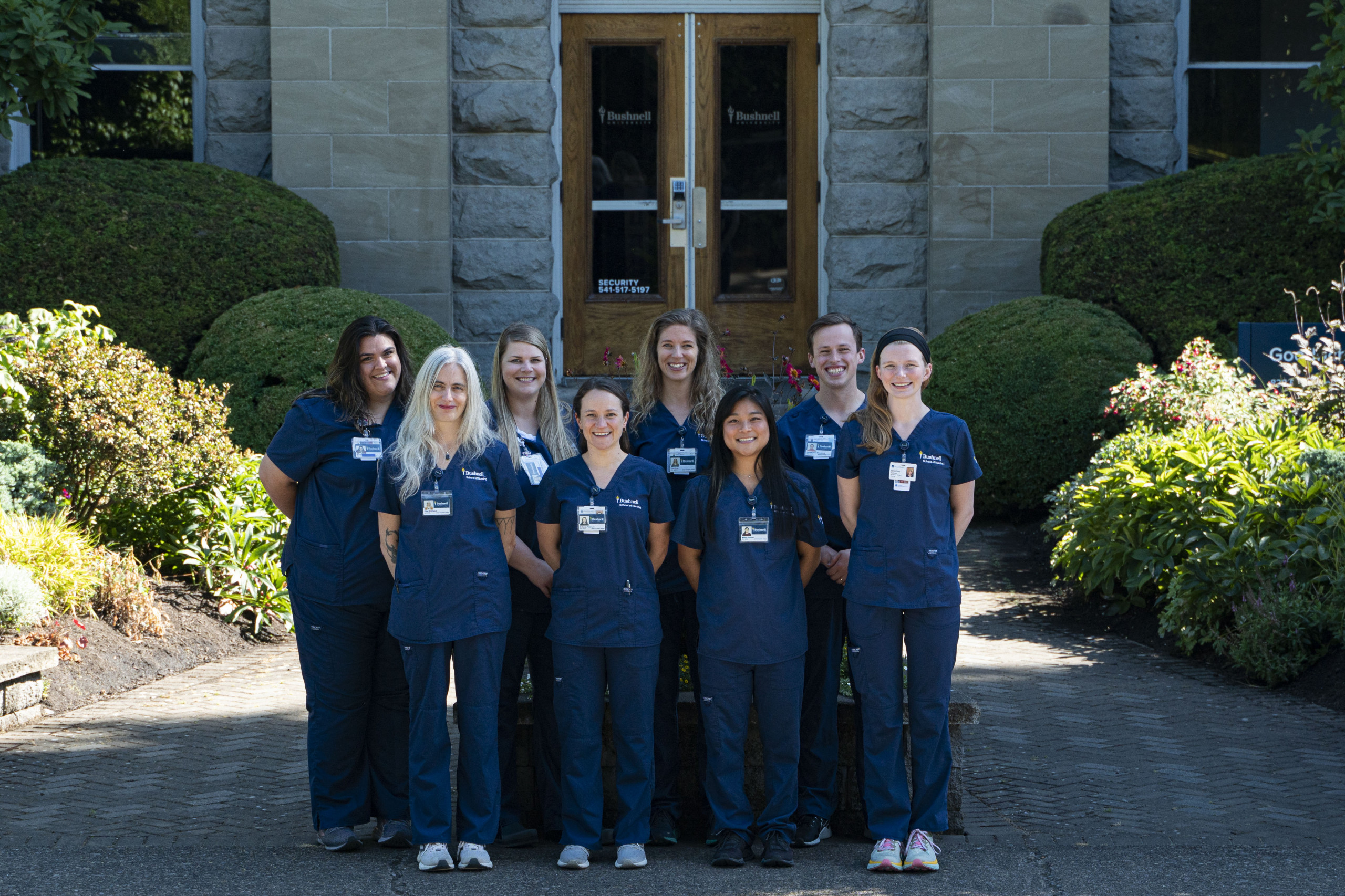 Trish Estes, a 2018 BSN graduate, believes she excelled because she was valued. "The support from faculty and staff was wonderful. They were extremely supportive and gave me the tools I needed to succeed," says Estes. As a working mom, this was exactly what she needed to progress from direct patient care to management at Albany General Hospital. "God opened every door," she adds, "and it will do the same for others." 
Students can apply for the accelerated BSN program every June. The existing RN to BSN and nursing master's programs continue to serve healthcare systems, students, and communities during unprecedented times. Bushnell University's nursing faculty believe that patient outcomes and experiences, as well as the healthcare system at large, will be served by Beacon nurses as they lead the way with heart, commitment, and a God-given calling.