Elizabeth Bruno is the accessibility coordinator for Bushnell University, and the role she plays is crucial to Bushnell's student learning experience. In this Q and A, she shares a bit about herself and how she came to be in this position at Bushnell.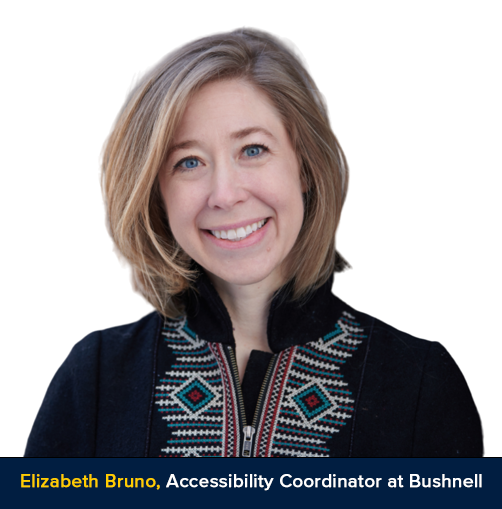 Elizabeth Bruno is passionate about providing students with an environment where they can thrive in their academics. As accessibility coordinator, Bruno is uniquely positioned to make an impact on Bushnell students. She sees her role as a "problem-solver", pinpointing obstacles for students and advocating for academic accommodations for those students to be successful.
Tell us about your role as director of student success at Bushnell University. 
In this role, I serve as the Accessibility Coordinator, I manage Tutoring, and I collaborate with faculty and staff to refine university systems toward greater student thriving. In this role, I function as a problem-solver, strategic planner, and mediator when there are obstacles or speed bumps to academic thriving, particularly in advocating for students with academic accommodations and supporting students through tutoring. Speed bumps are often gifts in universities – the moments where there is stress or strain that can allow faculty/staff and students to slow down, examine, connect, and experience growth. The difficulty is where the clues exist to create better places of belonging. This is truly a fantastic role –I am here to be a helper to both sides, to listen, and to help locate the ways in which progress and equity is possible. It's often long work, but beautiful and mission driven.
What drew you to Bushnell and this career? 
My work life has gravitated toward serving vulnerable populations in education (and occasionally medical settings). This has meant times of serving learners in prison, long-term medical facilities, disadvantaged students in zones of poverty, working in an Alzheimer's clinic, serving military veterans with PTSD, second language learners, children with substantial behavioral challenges, and so on. I've wanted to do this work since I was a child, when I learned about a boarding school in Cote d'Ivoire for missionary's children. I felt a distinct pull to be in a setting where I would do more than teach, and nurture learning humans in a wholistic way. At the time, I pictured being a dorm mom. I couldn't picture at that age the many different ways that work could happen. I've continued to be drawn to places where I can help people navigate, continue learning myself, and be a part of a community. I feel drawn to Bushnell because it's a small environment with intentional goals focused on growing, including in how it honors people. My desire is to create impact to help humans here walk a little lighter and feel their own dignity, and to help the people around them see them and make room for that dignity to unfold and have space. In a Christian context, for me that means thinking theologically about Matthew 25 and what it means to respond to human need around us.
"I feel drawn to Bushnell because it's a small environment with intentional goals focused on growing, including in how it honors people."
-Elizabeth Bruno
What does your job look like on a day-to-day basis?  
My role is housed in the Center for Career & Academic Resources and located in the Library building. I meet with current and prospective students, faculty across campus, and families, as well as communicate and collaborate across the university (and with other universities). I manage testing accommodations, note-taking, and other essential mechanisms that allow greater access. I brainstorm with instructors on how to make their courses more inclusive for all kinds of learners. Second, as I manage Bushnell's current tutoring system, there is a future focus on developing a writing center. I am looking to create a space for this, as well as to glean insight from faculty and students about precise services to offer. Writing is one of my passions. Giving people the experience of understanding and being understood through language is one of my priorities, particularly those who have traditionally not been heard. Because AI writing is currently a hot-button topic, there's never been a better time to be thoughtful about how and why writing is being taught and used. I am drawn to writing because language and storytelling are often considered sacred ("In the beginning was the Word," etc.) and I have experienced language as sacred for as long as I can remember. Third, in the fall I will begin to teach writing courses! I am particularly looking forward to being in the classroom and having a better understanding of what students and faculty are currently experiencing.
What is the most difficult aspect about your job?
Practically speaking, not misplacing my keys remains far more difficult than I would have hoped for at this point. On a more serious note, in this kind of work (and many others) it can be challenging to offer the right level of care and investment into people. How much is too much? How much is too little? What does respect look like in each situation? It can be easy to pour your whole self into things, and sometimes harder to extricate yourself out. It can be especially challenging to want to help and find/feel you are failing or coming up short. I keep learning to be a little gentler with myself for making mistakes. I still turn to the words of T.S. Eliot in "Ash Wednesday" for a little help: "Teach us to care and not to care. Teach us to sit still."
What advice would you give students? 
 My best advice probably comes from an interview I heard two years ago on Krista Tippett's "On Being" podcast. In this particular interview, she talks to Rabbi Ariel Burger about what he learned from Holocaust survivor Elie Wiesel. Burger said Wiesel once boiled his ideas down into this core concept: "When we're awake, we should be awake. And we should know that right now people are suffering and there's something we need to do about it, even if it's something small. So never let someone be — never let anyone be humiliated in your presence is a very powerful starting point, because it means that not only can you not humiliate someone, but you can't be indifferent." For me, that phrase "never let anyone be humiliated in your presence" is a phrase I now carry. I find it good advice for anyone who wants to take seriously the work of learning while sharing space with others.
About Bushnell University
Founded in 1895 Bushnell University helps students discover and answer God's call on their lives. Devoted to offering a Christ-centered environment, Bushnell encourages students to grow in wisdom, informed by faith, and leading to lives of service. Accredited by the Northwest Commission on Colleges and Universities, the University was founded by pastor-educator Eugene C. Sanderson and pioneer businessman and church leader James A. Bushnell. Bushnell is the largest private university in Eugene's vibrant university district. The University offers bachelor's and master's degrees for undergraduate and graduate studies through course formats on campus, online, and evening, as well as online programs for MBA, MA in Leadership, and M.Ed. More information about the University is available at www.bushnell.edu.