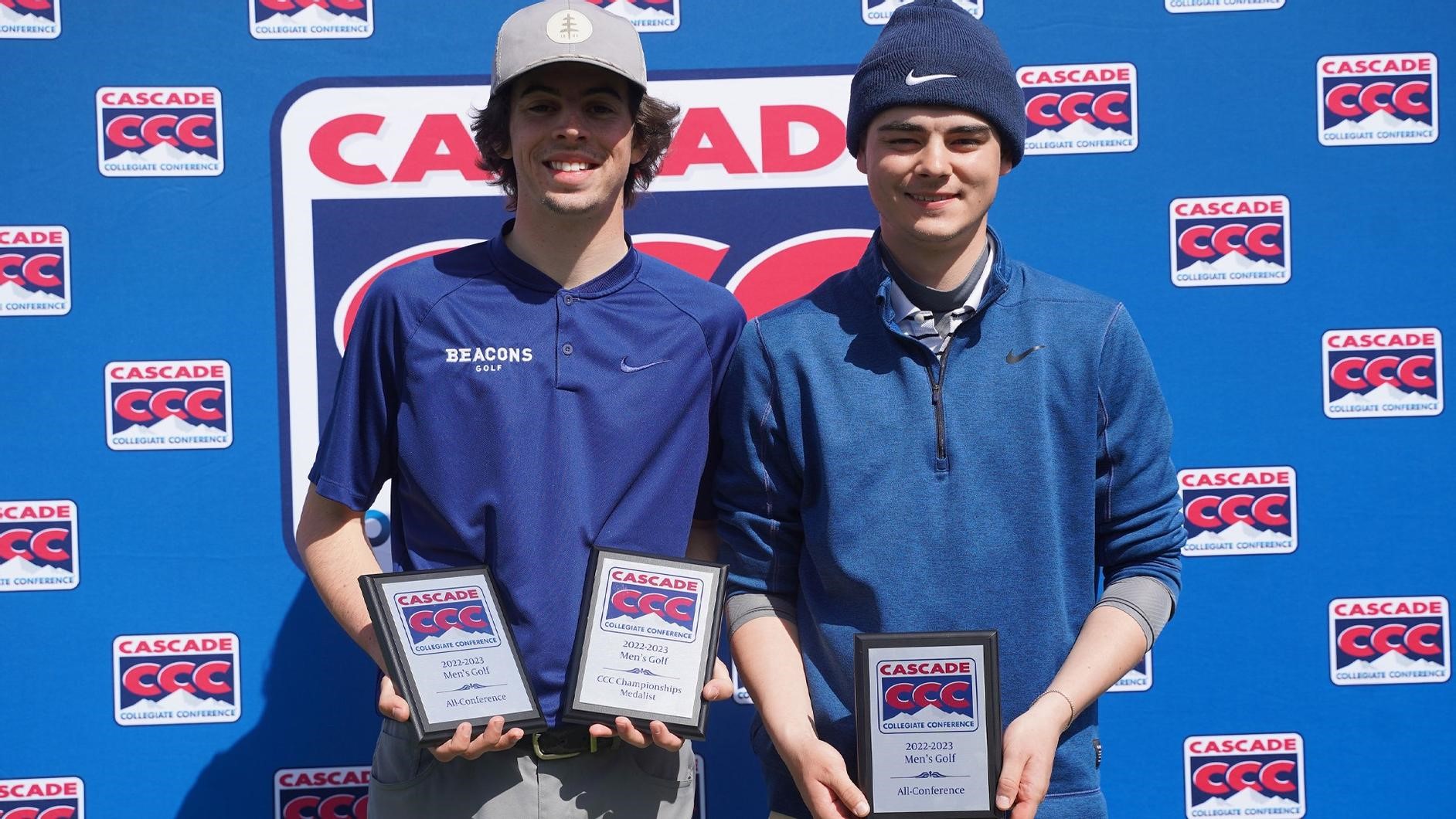 CRESWELL, Ore. – Caden Stubbs earned medalist honors at the 2023 Cascade Collegiate Conference Men's Golf Championship, hosted by Bushnell University, winning the individual title by five strokes at the Emerald Valley Golf Course.
Stubbs finished 3-under on the tournament to extend his senior campaign and earn himself an automatic qualification to the NAIA Men's Golf Championship. He becomes the fifth Beacon to win CCC Medalist honors, giving Bushnell the most of any school in the history of Cascade Conference Golf. He joins Andrew Webb (2022), two-time champion Josh Goins (2016, 2017) and Tyler Falk (2014).
The senior was in a tie for first entering the day but pulled away with a steady third round to finish with a final score of 72-68-70—210. His three-round score of 210 is tied for the second lowest in school history and the best since 2013.
On another high note, Jackson Muramoto (73-73-69—215) tied Jorgen Viken (66-74-75—215) of LC State for second place on the leaderboard. Muramoto, who claimed NAIA National Men's Golfer of the Week honors just over a month ago, carded the lowest round of the day to move up in standings.
Hayden Lazeo (83-76-73—232) secured a top-20 finish, posting a third-round score of 73 to tie for 18th, while Benjamin Lovrod (73-76-85—234) tied for 24th.
British Columbia, who is ranked No. 10 in the most recent NAIA Men's Golf Coaches' Poll, won the team title by just one stroke over Bushnell. The Beacons maintained their spot in the standings by recording a 291 as a team in round three, seven strokes better than the Thunderbirds.
Bushnell's three-round team score of 885 is the third-best in school history and best since 2019.
The final team scores were: (1) British Columbia 295-291-298–884, (2) Bushnell 301-293-291–885, (3) LC State 295-303-291–889, (4) Multnomah 312-305-303—920, (5) College of Idaho 311-311-302—924, (6) Oregon Tech 316-310-313—939, (7) Southern Oregon 308-320-314—942, (8) Walla Walla 323-323-299—945, (9) Corban 322-335-320—977.
The All-Cascade Collegiate Conference Team was also named, with the top-ten finishers in order of stroke average being selected. Golfers must have played in a minimum of seven rounds to be eligible. Muramoto (72.4) and Stubbs (72.7) earned All-CCC honors for the Beacons, finishing third and fourth, respectively.
With his CCC Tournament victory, Stubbs qualifies to participate in the NAIA National Championship, taking place May 16-19 at Las Sendas Golf Club in Mesa, Arizona.
About Bushnell University Beacons
At Bushnell University, our focus is on developing the whole athlete: academically, athletically, and as Champions of Character. We are a Christ-centered athletic department, and He is central to everything we do. Above all else, we desire to give student-athletes the opportunity to forward their progress toward achieving a maturing identity in Christ. By encouraging the pursuit of excellence in the classroom and on the field of play, we desire our students to honor the gospel of Christ.
As a member of the Cascade Collegiate Conference, Bushnell University is affiliated with the National Association of Intercollegiate Athletics (NAIA). More information about the Beacons is available at www.bushnellbeacons.com.