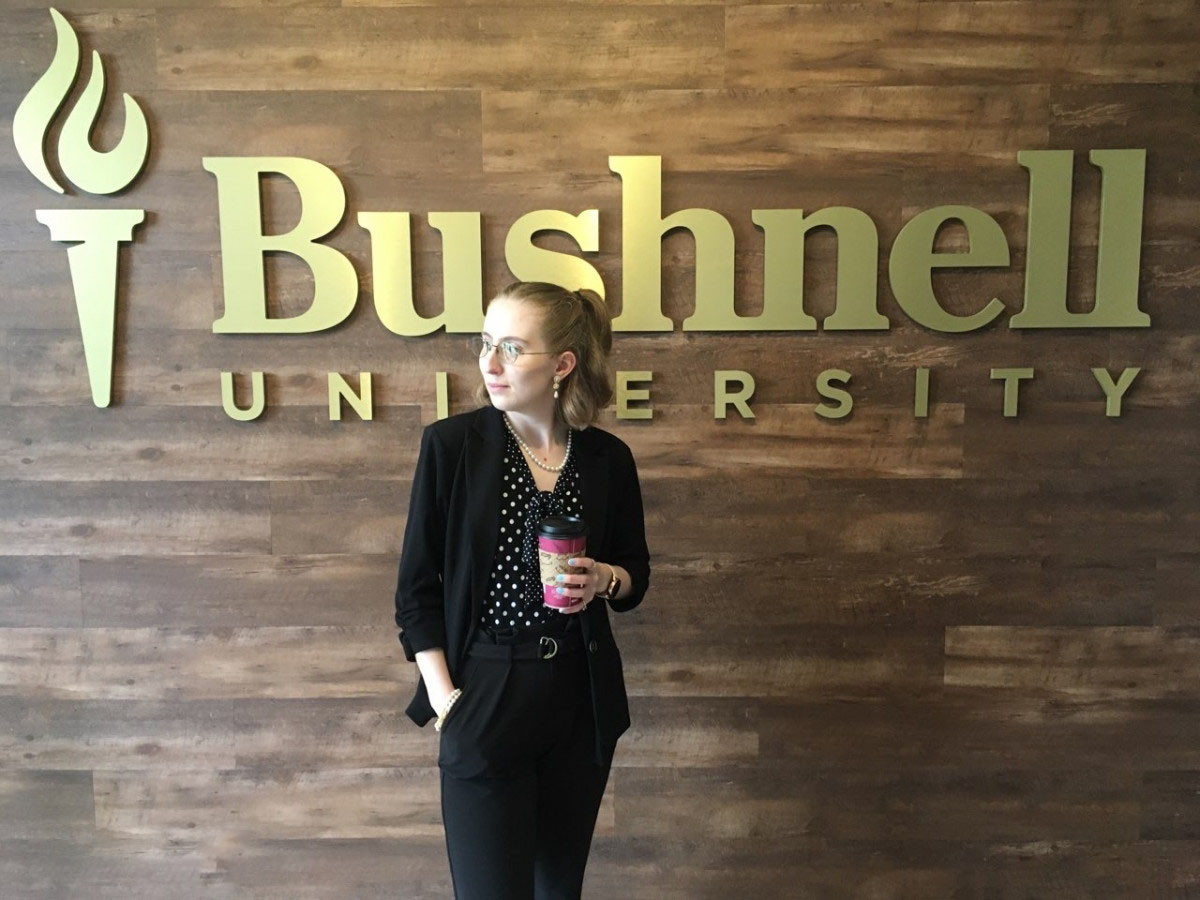 EUGENE, Ore. – Bushnell University student Kalani Miller is excelling both in and out of the classroom. With a major in Bible and Theology and double minors in Spanish and Biblical Languages, Miller is a driven and passionate learner with a bright future ahead. 
When asked about her most memorable experience at Bushnell, Miller immediately recalled giving the Esther chapel with Dr. Lynn Jacobson. It was a momentous occasion for her, as she was able to share her faith with the student body through the powerful story of Esther. 
"Kalani is an amazing student with a zestful curiosity for learning and life," said Dr. Lynn Jacobson, Adjunct Professor at Bushnell University. "She is wise, thoughtful, and respectful of people regardless of their life situation. She challenges and inspires both students and professors with her insightful questions. I have great admiration for her passion to love God and serve people well. Kalani is a modern model of the Proverbs 31 Woman of Valor, and she will continue to be a blessing to many people."
Miller's calling at this point in her life is to embrace being a student, and she has plans to pursue a Doctorate in Old Testament Studies and become a professor of Theology in the future. She has a deep love for the Bible and aims to inspire others to engage with it in the same way. 
Reflecting on her freshman year, Miller advises new students to embrace the ups and downs of college life saying, "You cannot predict what college will be like, and there will be both good moments and really hard moments, but it will be an incredible journey and experience."
One of the highlights of Miller's time at Bushnell has been her participation in the Bash-Whistler competition, which challenges students to memorize and recite passages of Scripture. This year, her third time doing the competition, Miller earned first-place honors, an achievement she credits to her new approach to the Bible. Instead of focusing on preaching, she imagined herself as a friend reflecting on the events in the passage. This approach gave her a fresh appreciation for the nuances of the Bible and allowed her to connect with it on a deeper level. 
Outside of her studies, Miller is an active member of the Bushnell community. She serves as a small group leader and is the president of the Spanish Club, which provides opportunities for students to practice their language skills and learn more about Hispanic culture. 
With her dedication to learning, passion for the Bible, and commitment to service, Miller is a shining example of the excellence and character that Bushnell University strives to instill in its students.