EUGENE, Ore. – Three graduates of Bushnell University's Class of 2023 were awarded the University's most prestigious student awards during its Spring 2023 Commencement ceremony.
Both Aspen Slifka and Rebecca Kuskie, who was not able to attend Commencement due to competing in the Cascade Collegiate Conference Outdoor Track and Field Championships, were honored with the prestigious President's Scholastic Award, as they both graduated with a remarkable 4.0 grade point average (GPA) this year. Slifka received her Bachelor's of Science degree in Elementary Education, while Kuskie earned her Bachelor's of Science degree in Psychology.
The annual presentation of the Presidents Scholastic Award recognizes the graduating senior at Bushnell University who has achieved the highest cumulative GPA, having successfully completed a minimum of 61 credit hours at the institution.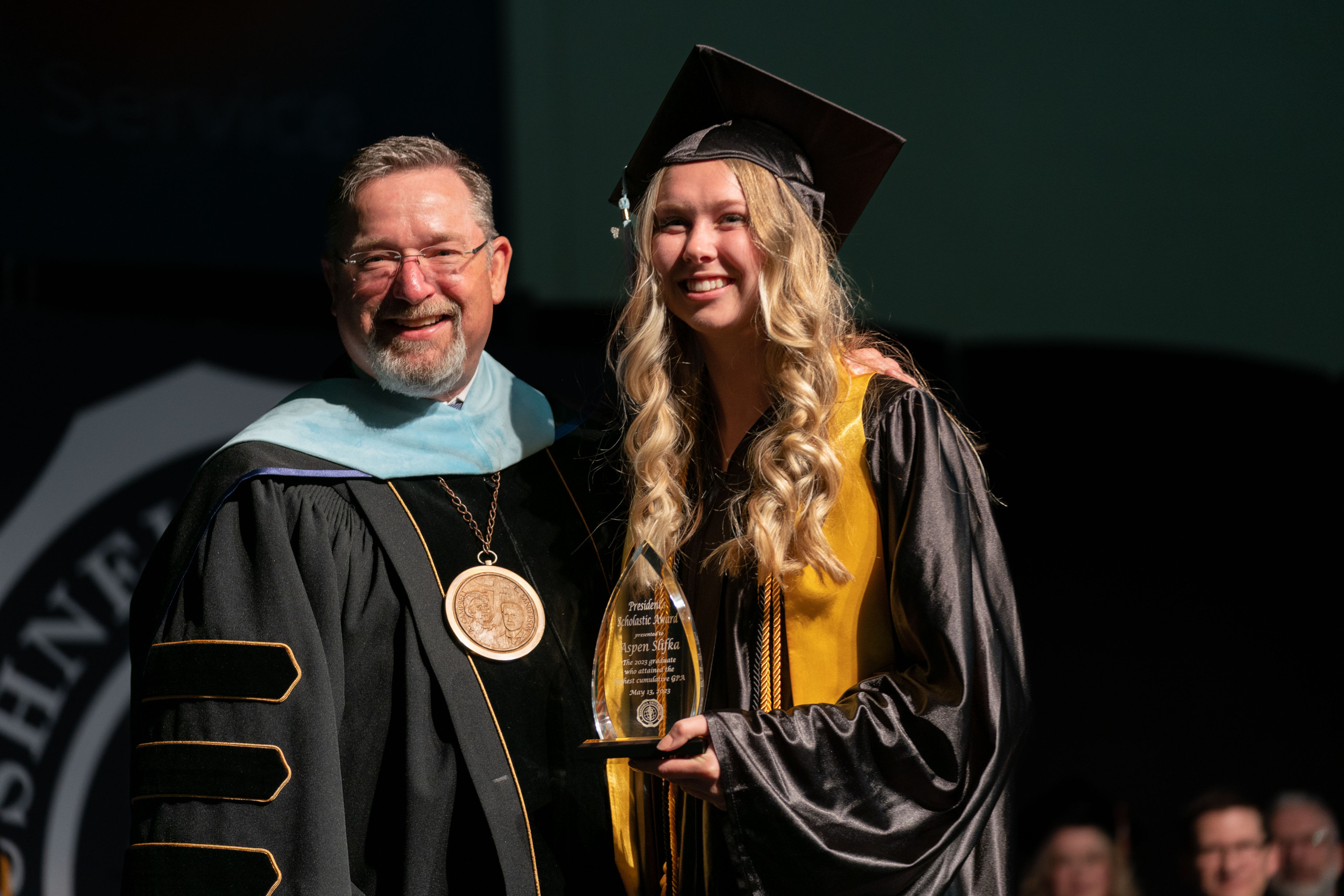 Aspen Slifka receives her award at Bushnell's 2023 Commencement ceremony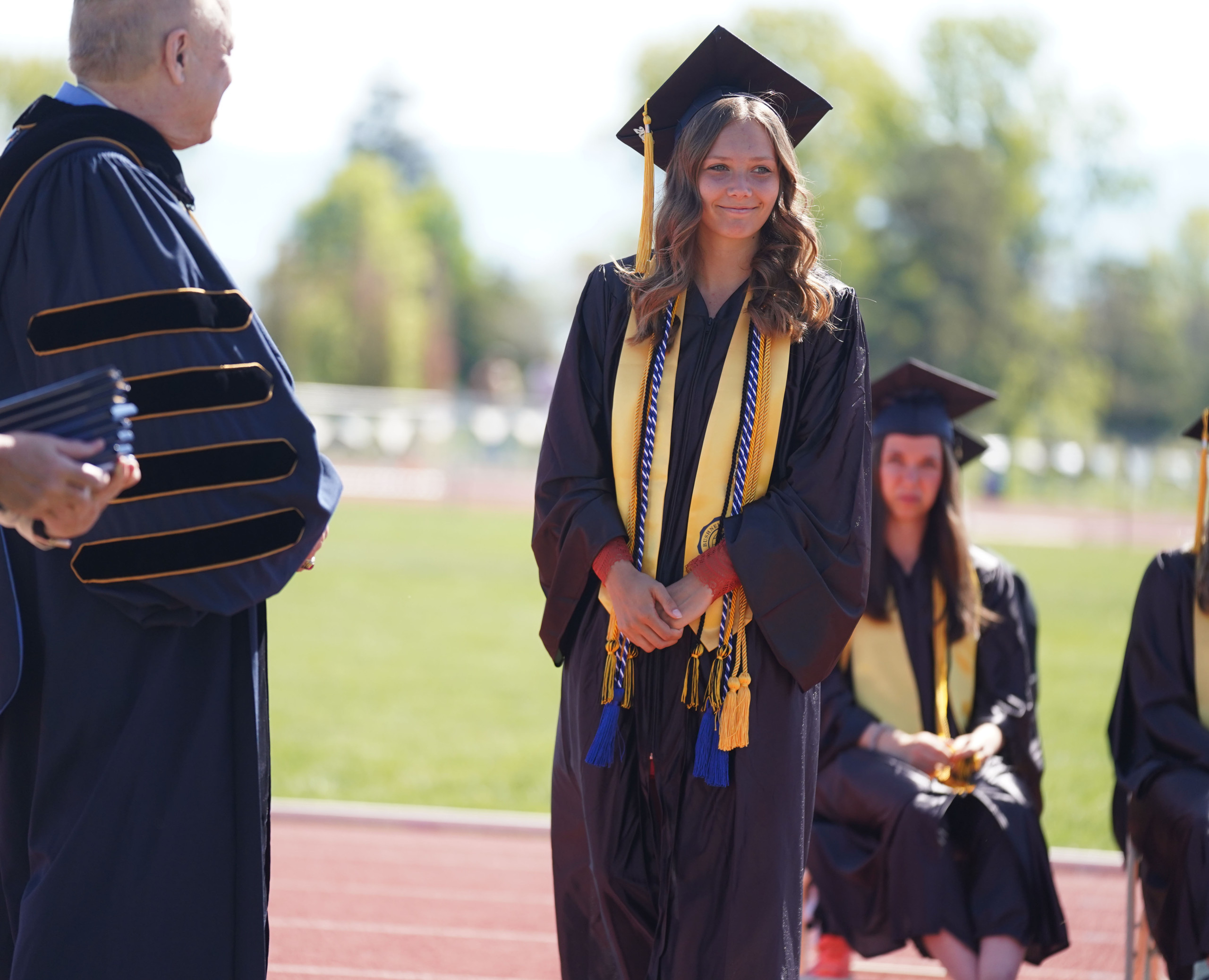 Rebecca Kuskie at a special Commencement ceremony held at the CCC Championships
The Dr. Kendall E. Burke Award, the University's highest honor, was presented to Preston Ferry, who received his Bachelor of Science degree in Exercise Science. Ferry's remarkable dedication to campus leadership was exemplified through his involvement in various roles, notably as the President of the Fellowship of Christian Athletes (FCA) Club. His commitment and impact earned him the esteemed Male Champion of Character Award at the 2023 Iggy Awards.
The recipient of the Dr. Kendall E. Burke Award, determined through a vote by the student body and faculty of Bushnell University, is presented with a distinctive Bible during the Spring Commencement service. This prestigious award is bestowed upon individuals who have demonstrated exceptional academic achievement, served as a source of inspiration to both students and faculty, embodied high ideals of Christian character, and made significant contributions to the University's mission. This distinguished honor was named in tribute to the late Dr. Kendall E. Burke, acknowledging his unwavering Christian service and dedication to the University.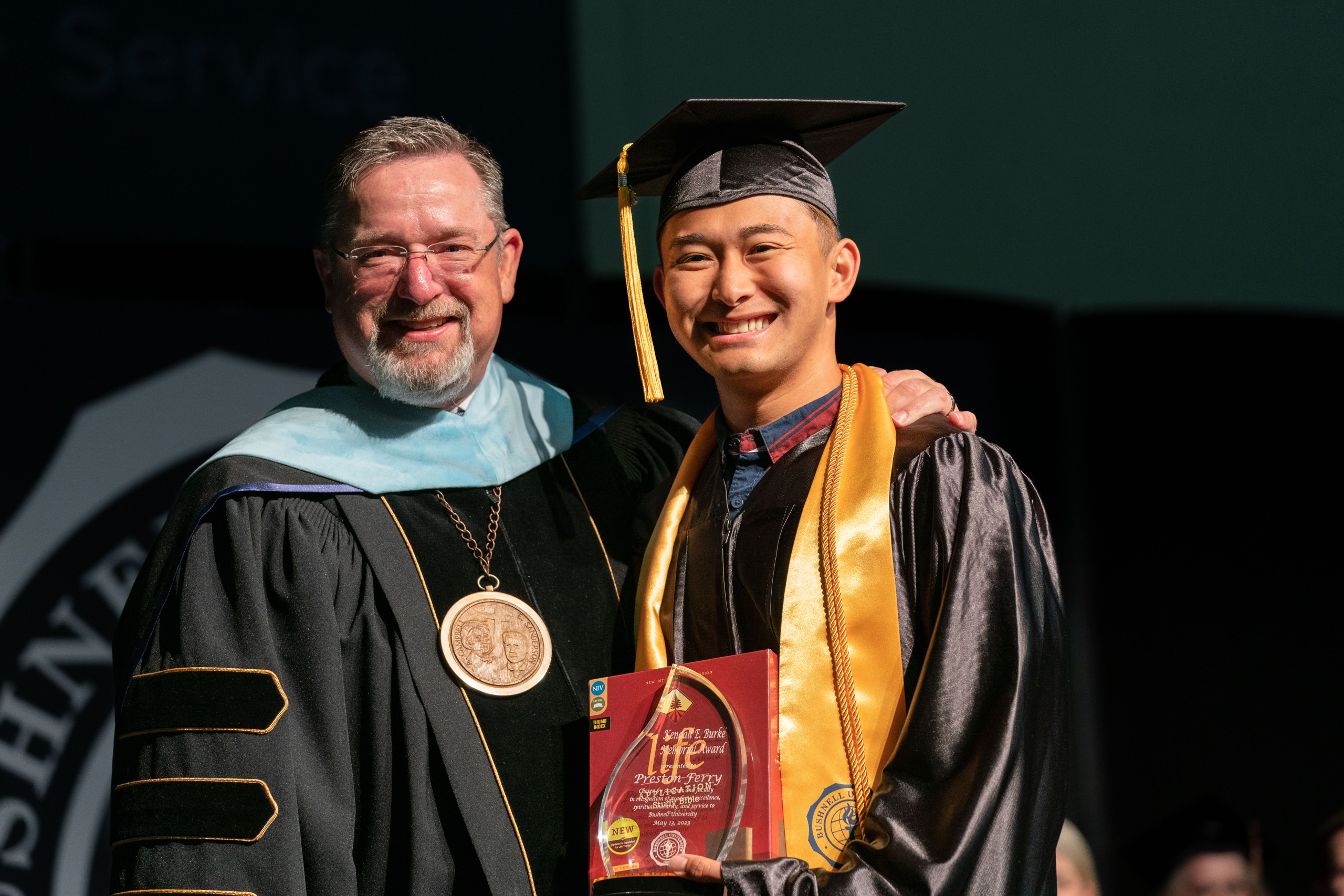 Preston Ferry receives his award at Bushnell's 2023 Commencement ceremony
About Bushnell University
Founded in 1895 Bushnell University helps students discover and answer God's call on their lives. Devoted to offering a Christ-centered environment, Bushnell encourages students to grow in wisdom, informed by faith, and leading to lives of service. Accredited by the Northwest Commission on Colleges and Universities, the University was founded by pastor-educator Eugene C. Sanderson and pioneer businessman and church leader James A. Bushnell.
Bushnell is the largest private university in Eugene's vibrant University District. The University offers bachelor's and master's degrees for undergraduate and graduate studies through course formats on campus, online, and hybrid formats. More information about the University is available at www.bushnell.edu.