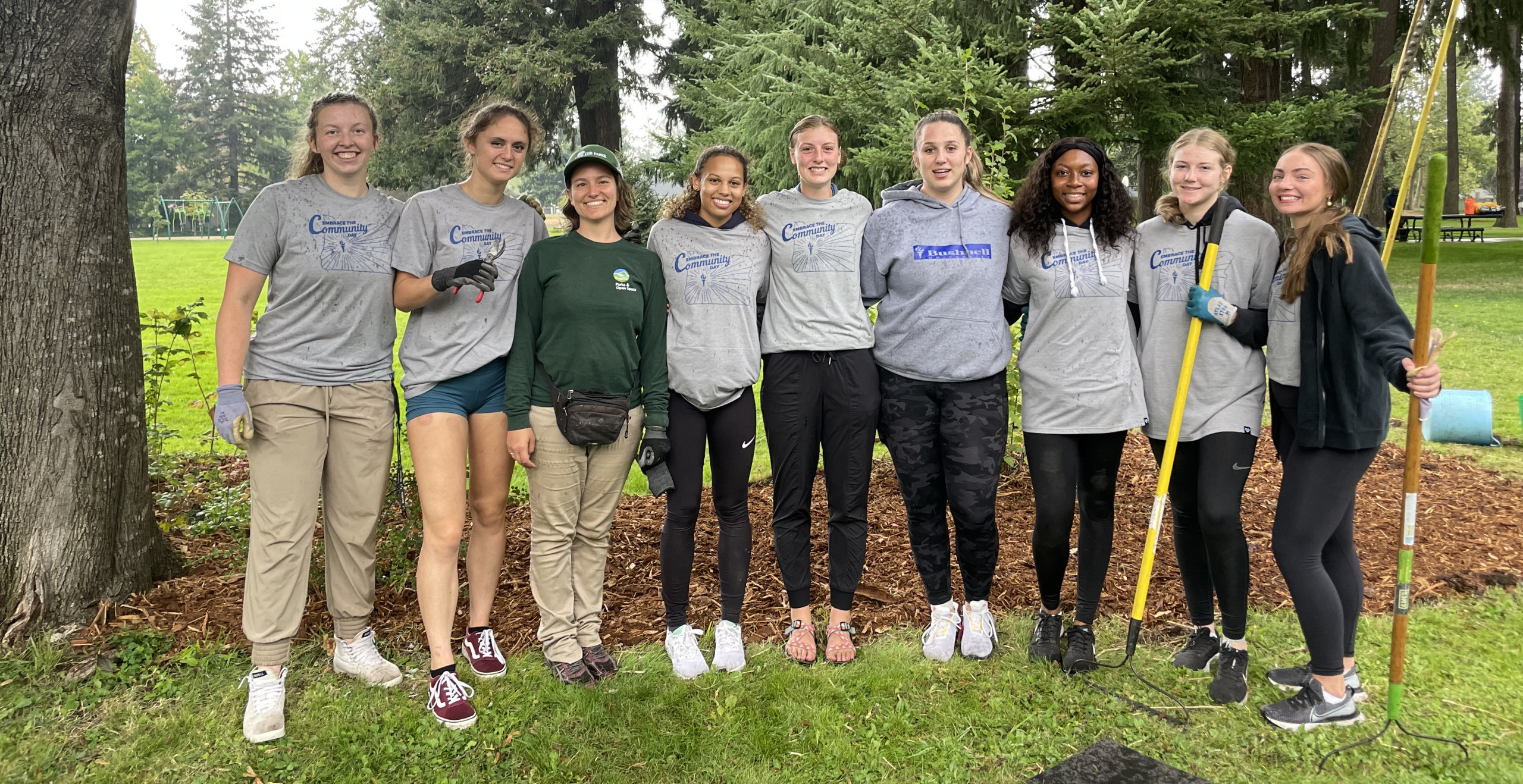 EUGENE, Ore.  – Continuing a strong tradition, the Bushnell women's track & field team was recognized as the Cascade Collegiate Conference Les Schwab Female Team of Character, as voted on by the CCC athletic directors.
Bushnell has now been home to four winners of the Les Schwab Team of Character Awards in the last three seasons, as the Beacons swept both the male (Men's Soccer) and female (Women's Basketball) awards in 2021 and Baseball won in 2022.
Cascade Conference Team of Character (Bushnell Recipients):
| | | |
| --- | --- | --- |
| 2021 | Women's Basketball | |
| 2021 | Men's Soccer | |
| 2022 | Baseball | |
| 2023 | Women's Track & Field | |
| | | |
The award, which recognizes one male and one female team, is voted on by the conference athletic directors after schools submit their nominations.
The Bushnell women's track & field team has a strong reputation of leadership on campus and in the community. This year the team participated in numerous service efforts including Bushnell's "Embrace the Community Day" where members worked at a local park participating in cleanup efforts and helped with a large organization project at the Atkinson Food Room. The team was also a key contributor to a FOOD For Lane County canned food drive, which collected over 2000 pounds of non-perishables for the community. In addition, the Beacons women's track & field team has one of the highest team GPAs on campus.
Other volunteer hours were logged with the following organizations and programs: River Road Parks and Recreation Couple's Classic race, CAFA (Christians as Family Advocates) annual fundraiser, Eugene Marathon, Track & Field World Championships, Kellenberger Library Childrens Reading program, Fellowship of Christian Athletes Leadership Team, Bushnell Summer Mission Trips.
Athletic Director Corey Anderson said, "Our women's track & field team does a fantastic job of representing Bushnell University whether it's on the field of competition or in the community. I appreciate Coach Boldon and Coach Walcott for organizing and providing the opportunities for our team to serve, but it is the student-athletes themselves that are being a true Beacon in their actions of helping others while contributing to community events and services."
About Bushnell University
Founded in 1895 Bushnell University helps students discover and answer God's call on their lives. Devoted to offering a Christ-centered environment, Bushnell encourages students to grow in wisdom, informed by faith, and leading to lives of service. Accredited by the Northwest Commission on Colleges and Universities, the University was founded by pastor-educator Eugene C. Sanderson and pioneer businessman and church leader James A. Bushnell.
Bushnell is the largest private university in Eugene's vibrant University District. The University offers bachelor's and master's degrees for undergraduate and graduate studies through course formats on campus, online, and hybrid formats. More information about the University is available at www.bushnell.edu.
About Beacons Athletics
At Bushnell University, our focus is on developing the whole athlete: academically, athletically, and as Champions of Character. We are a Christ-centered athletic department, and He is central to everything we do. Above all else, we desire to give student-athletes the opportunity to forward their progress toward achieving a maturing identity in Christ.
By encouraging the pursuit of excellence in the classroom and on the field of play, we desire our students to honor the gospel of Christ. As a member of the Cascade Collegiate Conference, Bushnell University is affiliated with the National Association of Intercollegiate Athletics (NAIA). More information about the Beacons is available at www.bushnellbeacons.com.