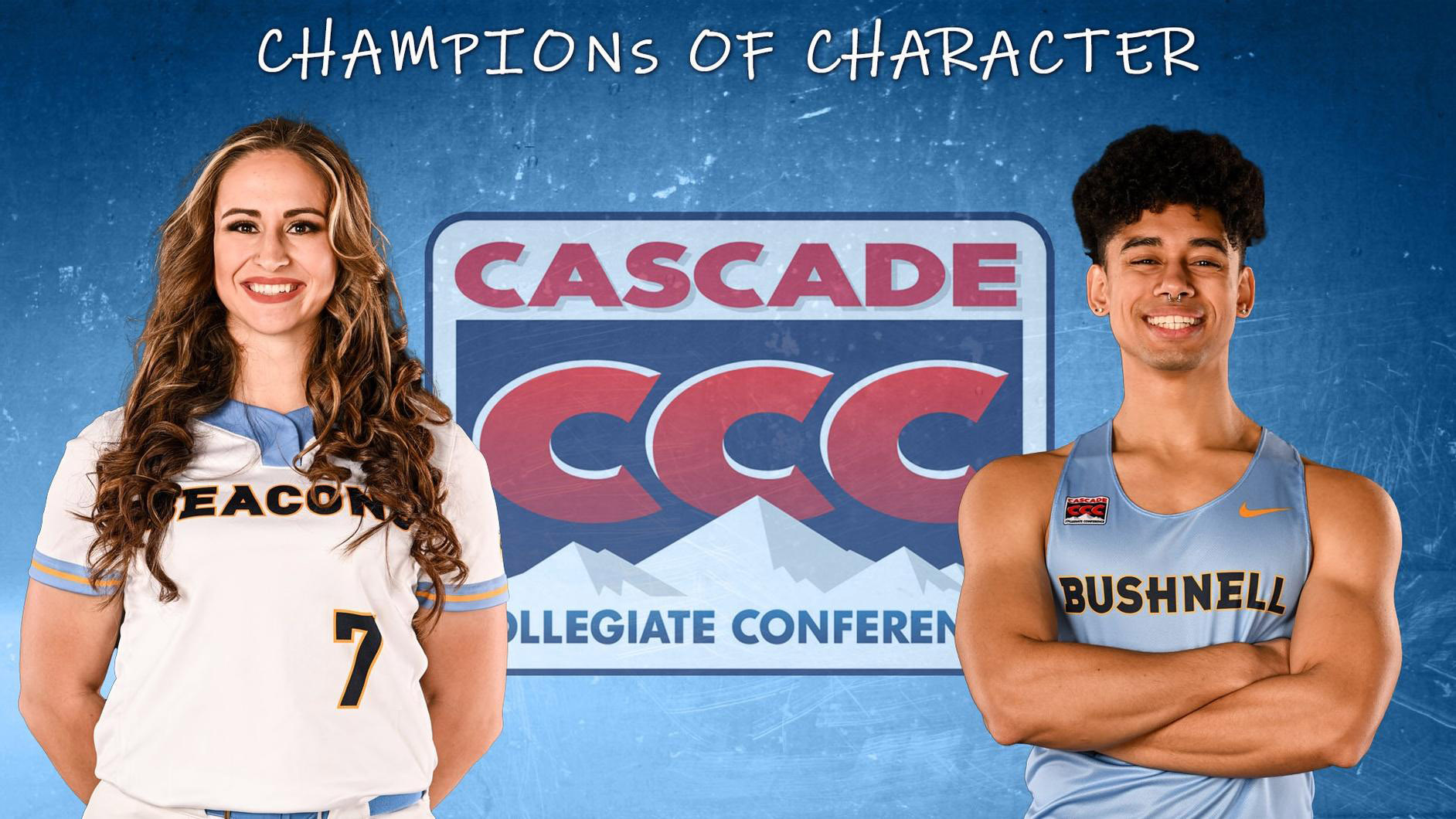 CORVALLIS, Ore. – Bushnell University's Samantha Silver and Jaron Carter were named the 2022-23 Cascade Collegiate Conference Champions of Character of the Year, announced Wednesday morning by the conference office.
The annual award recognizes one male and one female athlete who represent the five aspects of the Champions of Character – Respect, Responsibility, Integrity, Sportsmanship, and Servant Leadership. The award is voted on by the conference athletic directors based on nominations from member schools.
Bushnell has a long and proud history with the award, having at least one winner in each of the last seven years. This is the second time, and first since 2019, that the Beacons have swept the Male and Female Champion of Character awards.
Cascade Conference Champion of Character of the Year (Bushnell Recipients):
| | | |
| --- | --- | --- |
| 2011 | Britni Steiling | Women's Soccer |
| 2014 | Janel Fetters | Volleyball |
| 2018 | Jordan Alexander | Men's Basketball |
| 2019 | Kaleb Miles | Men's Soccer |
| 2019 | Britnee Joaquin | Women's Soccer |
| 2020 | Maya Jenkins | Softball |
| 2021 | Ethan Crofts | Men's Soccer |
| 2022 | Sam Silver | Softball |
| 2023 | Sam Silver | Softball |
| 2023 | Jaron Carter | Men's Track & Field |
Silver, a senior from Mount Vernon, Wash., currently holds a 4.0 GPA in her Clinical Mental Health Counseling Master's Program. She is the reigning CCC Female Champion of Character and won the NAIA's Dr. Leroy Walker Champion of Character Award last year. Her work in relation to preparing Student-Athlete Mental Health programs that fueled her nomination last season has come to fruition this year. She serves as a peer counselor and through her Vision and Call Grant, has continued to develop and improve the student-athlete mental health programs that she helped launch.
She also serves as a leader in the Bushnell chapter of Fellowship of Christian Athletes, which was recognized by ASBU as Bushnell's "Club of the Year". She has a leading role in community service efforts, especially during Bushnell's "Embrace the Community" day where they worked with Catholic Community Service and Youth for Christ. Athletically, she was a team captain and the top pitcher on the Beacon's softball staff.
Athletic Director Corey Anderson said, "Sam has been and continues to be a pillar of leadership as a student-athlete for Bushnell University. We are so proud of Sam for being a true student-athlete along with the continued work that she does to establish student-athlete mental health and wellness while coordinating grad student's clinical hours with our athletic teams."
Carter, a senior from Tacoma, Wash., has been a leader among the student body from the minute he stepped foot on Bushnell University. He is a Bushnell and CCC SAAC representative, works as a campus tour guide, and can regularly be seen around campus and in the community volunteering. As a Student Programs Coordinator on campus, he helped plan and creatively market large-scale, well-attended, community-building events. He also founded the Bushnell Art Club, spent time as Bushnell Mascot Iggy, and worked as the New Student Orientation Coordinator. Last summer he was a resident assistant, admissions assistant, and a small group leader. Jaron helped to lead a fall kick-off service project, doing painting, and reorganizing at a donation center for a local non-profit. This season, the three-time All-CCC athlete set a school record in the 400m and finished fourth in the CCC Championships. Jaron Carter has been hired by Bushnell University to serve as an Admissions Counselor beginning this summer and will continue to bring greatness to the community as a Champion of Character.
Director of Track & Field Tom Boldon said, "Jaron is a young man of high integrity, who cares deeply about others, more than himself. He's always taking younger teammates under his wing and helping them learn and grow. He also works very hard and through his successes, has remained very humble. He is the ultimate example of a champion of character and what a true Beacon should look like."
About Bushnell University
Founded in 1895 Bushnell University helps students discover and answer God's call on their lives. Devoted to offering a Christ-centered environment, Bushnell encourages students to grow in wisdom, informed by faith, and leading to lives of service. Accredited by the Northwest Commission on Colleges and Universities, the University was founded by pastor-educator Eugene C. Sanderson and pioneer businessman and church leader James A. Bushnell.
Bushnell is the largest private university in Eugene's vibrant University District. The University offers bachelor's and master's degrees for undergraduate and graduate studies through course formats on campus, online, and hybrid formats. More information about the University is available at www.bushnell.edu.
About Beacons Athletics
At Bushnell University, our focus is on developing the whole athlete: academically, athletically, and as Champions of Character. We are a Christ-centered athletic department, and He is central to everything we do. Above all else, we desire to give student-athletes the opportunity to forward their progress toward achieving a maturing identity in Christ.
By encouraging the pursuit of excellence in the classroom and on the field of play, we desire our students to honor the gospel of Christ. As a member of the Cascade Collegiate Conference, Bushnell University is affiliated with the National Association of Intercollegiate Athletics (NAIA). More information about the Beacons is available at www.bushnellbeacons.com.