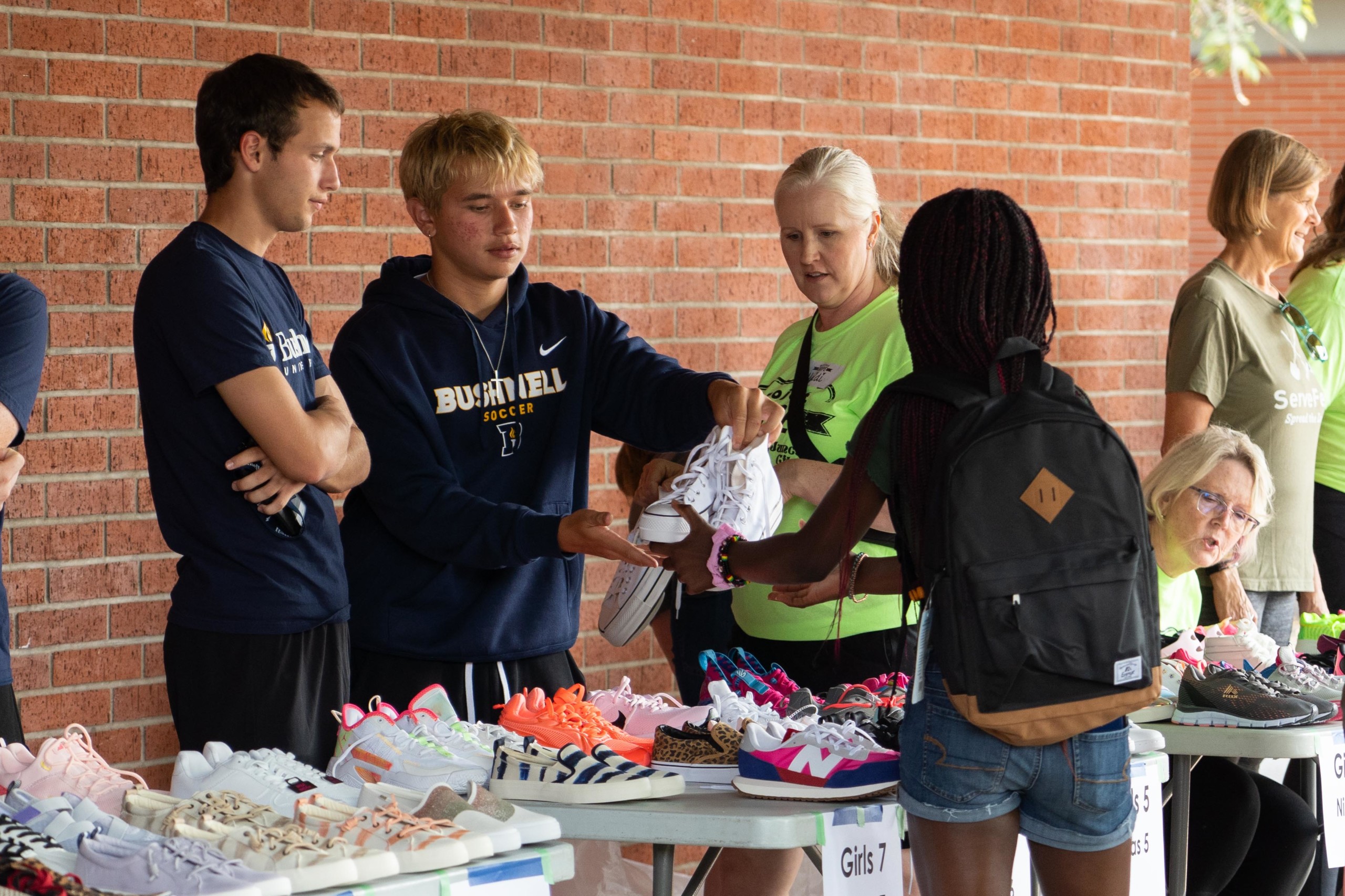 EUGENE, Ore. – With the arrival of the fall semester at Bushnell University, and a new athletic and academic year, the Beacon Athletic department has set the tone for a strong Tri-Athlete focus in 2023-2024 with multiple endeavors related to community service and character.
Sarah Freeman, Bushnell's Associate Athletic Director and Senior Woman Leader said, "As part of our tri-athlete focus, service is a main component to our character building initiatives. We start in August with service projects to set the tone for the year. We aim to be Beacons in our community and our student-athletes have done just that."
New-Student Orientation and Fall Move-In day took place last week and Bushnell athletes were heavily involved in the process on multiple fronts. Having already been on campus for a few weeks, fall-sport returning student-athletes did the heavy lifting, literally as they helped out teammates and non-teammates alike with the move-in process to campus living. In addition, Bushnell's Orientation Team of students featured a wide variety of student-athletes on the staff, helping make the transition to college a successful one for new Beacons.
On Sunday, The Beacon Athletics Fall Service Day took place on Sunday with another incredibly successful "reverse shopping" canned food drive to benefit FOOD for Lane County. Returning student athletes set out across multiple neighborhoods in Eugene with shopping carts in hand, going door-to-door to collect canned food, dry goods, toilet paper, and paper towels. The teams were able to once again break their all-time record as they brought in 1562 pounds of food.
While returning athletes participated in the canned food drive, all new student-athletes (freshmen and transfers) participated in Get Your Serve On, the culmination of orientation weekend. Those student athletes were sent to multiple locations around Eugene and Springfield to assist with Project Hope, an annual event which distributes, backpacks, school supplies, shoes and more to those in need in the community.
For the Bushnell athletic department, performing community service is more than just a way to "check a box" as part of the NAIA Champions of Character initiative. Instead, being a champion of character is a core component of the Beacons mission to develop student-athletes as "Tri-Athletes" giving equal focus to their endeavors on the court, in the classroom, and through service, with all parts centered around Christ.
Last year, Bushnell student-athletes, coaches, and staff served over 4000 hours including team community service projects, missions trips, and internships with non-profit organizations. This amounted to over 17 hours of service per student-athlete. The mission for 2023-2024 is for every student-athlete to complete 20 hours of service.
Associate Athletic Director Sarah Freeman said, "I am proud of the hard work our student-athletes have already put in to make a difference for individuals dealing with food insecurity, families preparing to send their children back to school with proper resources, helping move in new Beacons, and orientating new students to Bushnell. Our student-athletes and staff have shown what it means to live lives of service and we're excited to continue to make a difference in our community and around the world throughout the year."
To learn more about the Beacons Tri-Athlete model, visit www.bushnellbeacons.com/sports/tri-athletes.