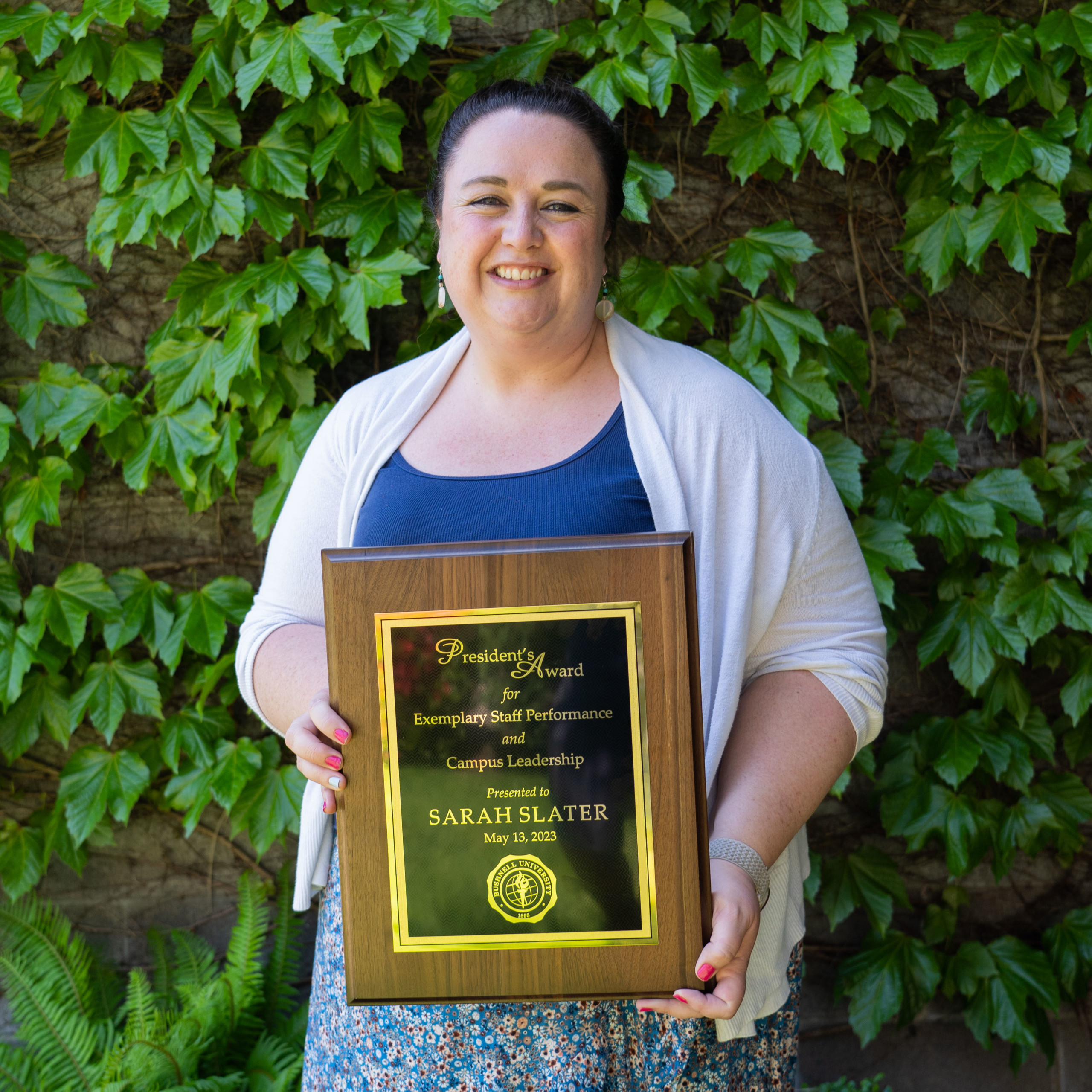 Sarah Slater is an accomplished professional who earned her degree from (then) Eugene Bible College in 2005 and is currently advancing her education with a graduate degree in leadership from Bushnell University. As the Senior Director of Enrollment Services at Bushnell University, Slater, who received the 2023 President's Award for Exemplary Staff Performance and Campus Leadership, brings over a decade of expertise to the table. Her skills shine in academic advising, collaborating with faculty, and breaking down barriers for students. Slater discuses her journey, offering invaluable perspectives on higher education and student success. 
What is your position here at Bushnell and what do your daily tasks include? 
I am the Senior Director of Enrollment Services. My days vary significantly. I meet with students to do Academic Advising (I have a small advising load), and I meet with faculty and Academic Deans to discuss courses, program changes, and any class concerns. One of my roles is to identify places Bushnell can improve for our students and problem-solve to fix them. A big portion of my job is helping to move the University forward with our goals, by making the process of being a student have less barriers. 
What led you to this career path? 
I was hired as a work-study student at my small bible college as a junior. I got to work in the student ministry department, as an RA, and in the Admissions Office. I really enjoyed the work and was hired as a full-time staff member shortly after graduating. I spent 10 years working there in various roles. When the Academic Advisor job opened at NCU (now Bushnell) it sounded like a perfect combination of what I loved doing. Gratefully I was hired and have grown in my responsibilities here. 
What is the most difficult aspect about your job? What is the best? 
I really struggle when I have reached the end of my ability to help solve a problem; it is particularly hard when it is for a student. It is my favorite thing to be at graduation, celebrating the amazing accomplishments of our students as they walk across the stage. I have a particular fondness for our non-traditional students. When a spouse or child yells to support a graduate from the audience, it gets me every time! 
Can you explain what enrollment services do and why department is important? 
Enrollment services are Academic Advising and Student Retention (or we like to call it student care). Our jobs are to help students in taking the courses needed (and no others) for graduation requirements. We guide students to resources and do our best to help identify barriers or places where being a college student is difficult and address those with solutions. 
What is your favorite thing about Bushnell? 
I have the very best colleagues! The faculty and staff are brilliant, kind, and so fun to work with on a daily business. It is a real joy to come to work!