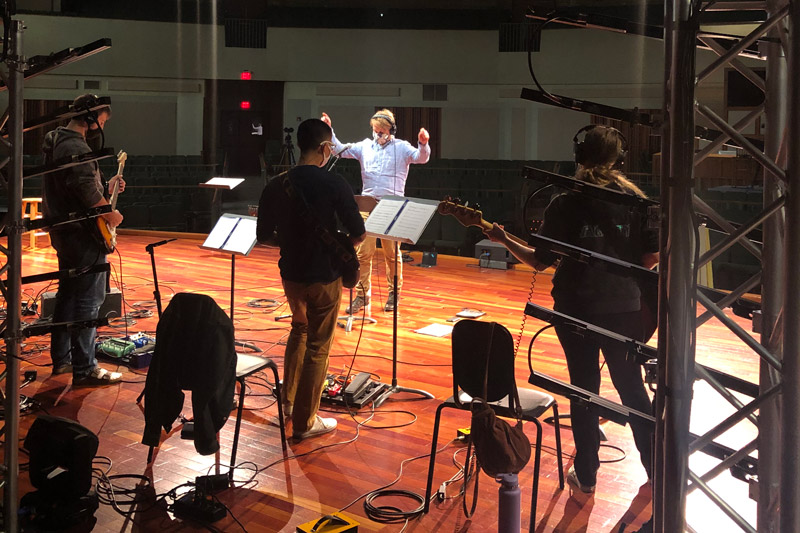 Bushnell University School of Music and Performing Arts is producing Shine On, a five day celebration of music videos that will be featured from November 20 to 24, online through a link at bushnell.edu for viewing through Facebook and Instagram.
"The goal is for each song to tell a story on how light fills the darkness and I think there is something for all people," said Bushnell's School of Music and Performing Arts Dean, Dr. Karen De Young. "The virtual events give students the opportunity to develop and share their performance skills with the community in a unique way, through both video production and recording. This experience helps to cultivate creativity and expand a skill set that applies to both musician and Contemporary Music Industry students."
The University's choir and orchestra, jazz band, contemporary women's group, Willow, and campus worship team, The Grove Collective will perform a variety of musical numbers that exude messages of hope.
To accommodate social distancing, First Baptist Church of Eugene generously provided Bushnell Music access to its stage and recording equipment to produce the music for the videos. Administrative Assistant Wendy Alexander says, "The initial process was a bit more work as far as organizing students and making sure they followed Covid-19 protocol, but it turned out to be a successful way to implement our virtual performances for the semester."
The virtual production will also feature the work of Jeff Sandstrom, who recently traveled as the lead audio engineer for the Passion Conference and well-known Christian recording artist Lauren Daigle. This will also mark the debut for Nathan Poehlke, Bushnell's new music director, who directs several of the performances.
For more information contact the Bushnell School of Music and Performing Arts.