Eugene, Ore.—- With the retirement of Vice President of Academic Affairs (VPAA) Dr. Dennis Lindsay after 17 years in the role, a national search was undertaken to fill this central position. It is with great anticipation Bushnell welcomes Dr. Reed Mueller to become the new VPAA. With over 25 years of academic and pastoral leadership he has demonstrated an ability to bridge gaps across the various strata within higher education institutions. His servant-leadership and strategic thinking were visible in both his 14 years as a lead pastor and his 9 years at Concordia University (Portland, OR) before its closure in 2020. Mueller holds a strong belief in the unique value of Christian higher education within society and a particular alignment with the mission of Bushnell University to foster wisdom, faith, and service through excellent academic programs within a Christ-centered community.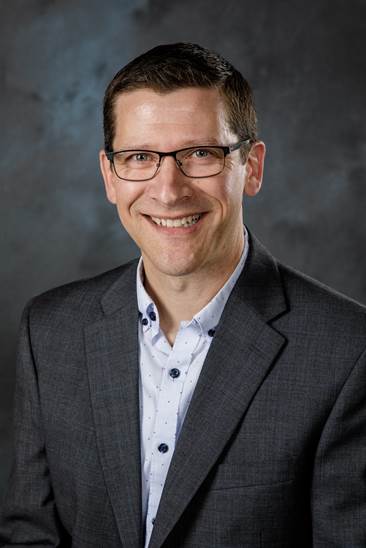 Dr. Mueller brings a depth of experience in higher education program leadership, teaching and teaching supervision, consulting, and research which will aid the success of the University and its students, staff, and faculty. He joins the Bushnell University administration this Summer.
"Dr. Mueller holds a strong belief in the unique value and relevance of Christian higher education within society and a particular alignment with the mission of Bushnell University," says Bushnell University President, Dr. Joseph Womack.
While serving as the Chair of the Department of Psychology at Concordia University, Dr. Mueller was appointed to several task forces and committees by Executive Cabinet members and the Provost. He shaped on-ground and online academic programs, specifically selected to chair the university's task force to reimagine online course development and continuous quality improvement processes to better define excellence in online pedagogy and andragogy. Beyond this he also recruited faculty teams, conducted applied research bringing over 500 faculty voices and others to bear, and collaborating with Concordia executives and stakeholders at other levels of the university. Relying further on his program development and research skills he designed and managed the Psychology department's assessment model, tracking departmental progress and associated student outcomes with an evaluation plan that was used as a university example when reporting to the Northwest Commission on Colleges and Universities (NWCCU), during accreditation.
"I resonate strongly with the mission, vision, and core themes of the University" says Mueller, "along with the the ethos of the Restoration Movement. Having served at Bushnell in 2020-21, it was clear to me that these distinctives are lived out at every level of the institution. After beginning to build relationships with the university and its students, staff, and faculty, I have a strong desire to return and serve the institution at this level of leadership."
He graduated with a B.A. in Psychology and Biblical Studies from Pacific Christian College and holds a Ph.D. In Clinical Psychology from Brigham Young.  He completed post-doctoral training at Oregon Health & Science University (OHSU) in Medical Psychology and has produced both basic and applied research works. These works have primarily centered on effective measurement and evaluation of various individual states or abilities (e.g., mental health status, information literacy), community-university partnerships (e.g., 3toPhD formative and summative evaluation), and higher education programs (e.g., various market analyses). As part of this work, he advocated and won support for a university research center serving the community through program evaluation consulting work.
Dr. Mueller supported other departments, engaged with students including recruitment and retention, counseled students in a variety of areas, provided conflict mediation services across the university, and served as the Title IX/Equity Faculty Deputy and Investigator. His publications include six peer reviewed works and twenty-five other reports and works as well as eleven grant and consulting awards.
About Bushnell University
Bushnell University transforms lives. Devoted to offering a Christ-centered environment since its founding over 125 years ago, Bushnell encourages students to pursue wisdom, nurture faith, and champion service. Accredited by the Northwest Commission on Colleges and Universities, the University was founded in 1895 by pastor-educator Eugene C. Sanderson and pioneer businessman and church leader James A. Bushnell. The University offers bachelor's and master's degrees in traditional undergraduate, adult degree, and graduate program formats, as well as online programs for MBA, MA in Leadership, and M.Ed. More information about the University is available at www.bushnell.edu