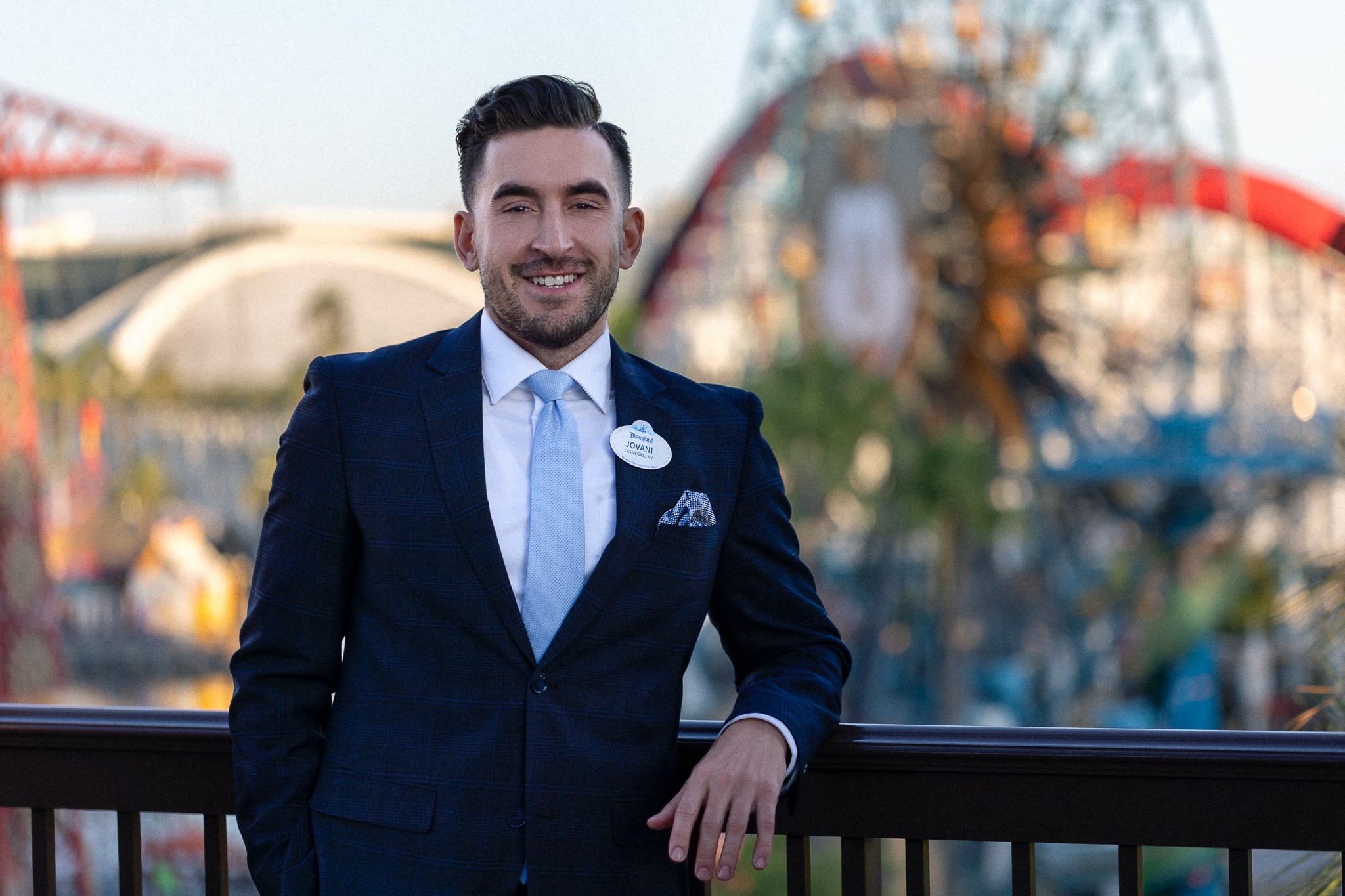 Jovani Guzman '16 has spent the past year spreading the magic of Disney as an Area Manager for The Walt Disney Company. In this Q and A, Guzman recaps his journey through the hospitality industry, shares what it is like working at the "happiest place on earth," and provides advice for students who aspire to a similar journey. 
What drew you to Bushnell and the business program? What are some of the key ways in which the program helped prepare you for your career?  
What drew me the most was that a Business degree could be used in so many different capacities. I remember my roommate Nick and I would always go back to our dorm/apartment late at night and try to come up with next big thing. … Business was just something that was always in me. 
What drew you to a career in hospitality and your role at The Walt Disney Company? 
Being born and raised in Las Vegas, and seeing my mom work her way up in the hotel industry to the executive she is now had a lot to do it my draw to the hospitality industry. My first job in a hotel was as a lifeguard at the Golden Nugget in downtown Las Vegas. Fast forward almost 15 years later and I have had the privilege and honor of learning from some of the best hoteliers and working for some of the best hotel companies in the world. …The next chapter in my career; well, that started when I was 6 months old, the first time my parents brought me to Disneyland!  
See over the last 15 years I have learned so much about the industry and what it means to serve and cater to the Guests that walk through the door but nothing more important than the single fact that; People Make People Happy!  
What does a typical day look like for you as an Area Manager at The Walt Disney Company? What are some ways you ensure guests in your hotels have a good experience? 
At Disney there is no typical day; and to be honest that is the beauty of the Magic that we get to create around here. Although my job is to ensure our Guests are having a memorable vacation; there is nothing more important than taking care of your teams and ensuring they are set up for success. We are all here for the same goal of driving the Guest Experience but in leadership it is important to understand that we are all at work for personal reasons.  
What does an Area Manager do? 
My job is overseeing the day-to-day operations of the front office of the hotel. This consists of Front Desk, Guest Services, Club Services, Concierge and our Phone Center. I love to call my teams the catch all for everything or the heart beat of the hotel. Why? Well, all the good and unfortunately sometimes the bad all ends up at one of these areas. This is actually a blessing in disguise because at the end of the day we have the opportunity to turn everything around!  
Why is your job industry so important?  
Hospitality is an industry that will always be around. In today's day and age, a lot of industries are being taken over by machinery, AI, and technology in general just to name a few. All of these are going to be apart of our everyday life; the one thing none of those things can release is human interaction. That is the true definition of hospitality. At the end of the day you can bring in all of these things to enhance the Guest experience but the most memorable ones will always be with you or I.   
With your hospitality experience, what advice would you give to students who are interested in this area, about to earn a degree, and enter the job market? 
My advice is simple; go back to the basics! I interview people all of the time and you would be amazed at how many candidates do not send a thank you email, how many do not ask follow up questions, and how many do not have a resume or cover letter prepared; stick with the basics and be genuine. Today's workforces are just looking for people who are genuine and care to put in the hard work. 
To learn more about Bushnell's School of Business, Leadership, and Technology, visit www.bushnell.edu.