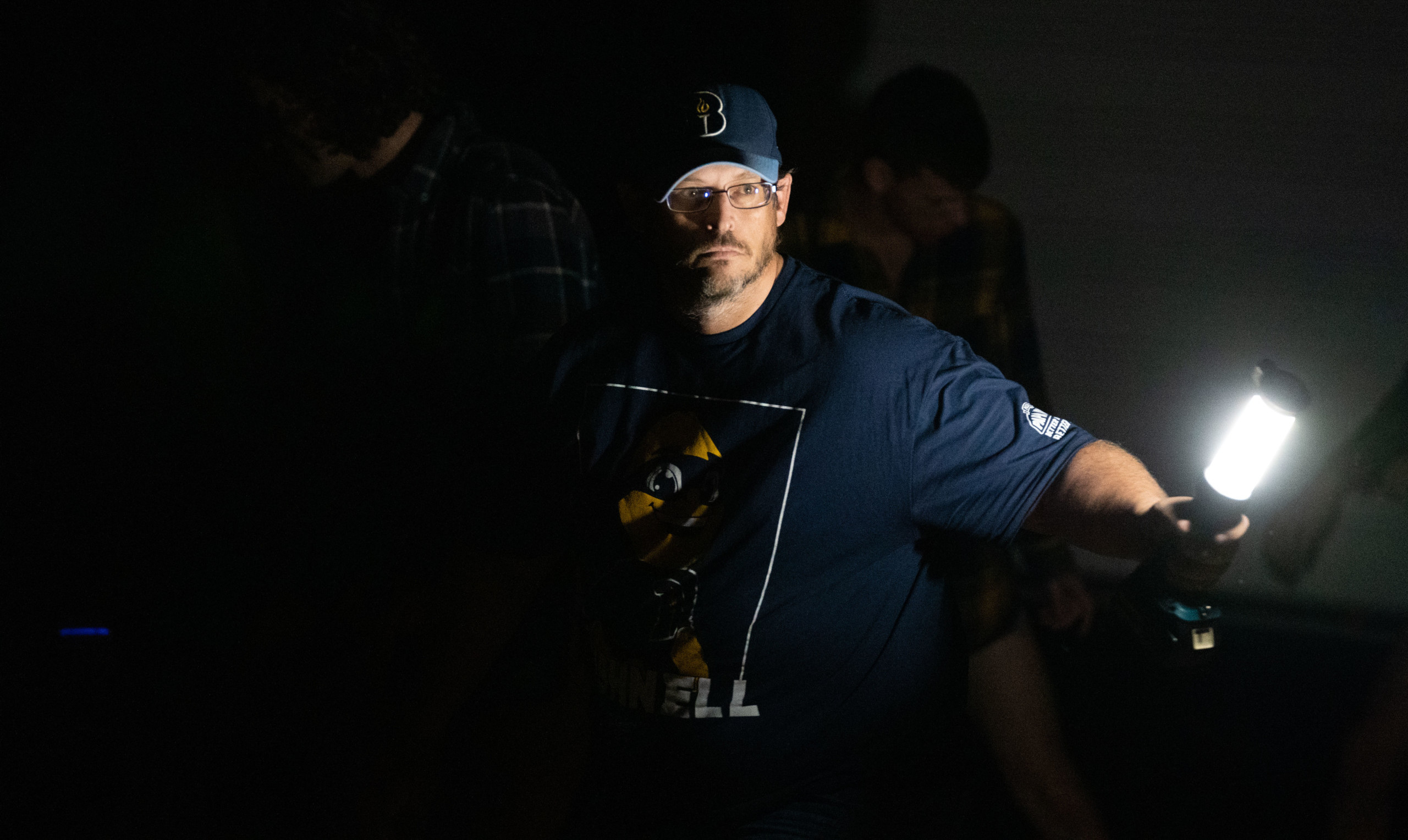 Nick Askew makes a guest appearance at the Beacons annual "Beacon Madness"
Longtime Beacon Nick Askew has been overseeing the Athletic Communications office at Bushnell University since 2006. In that time, BushnellBeacons.com has been named one of the top-ten websites in the NAIA three times, most recently in 2020. Askew gives a glimpse into his role in athletics and shares why he has supported Bushnell for so many years.
What is your position, and what do your daily tasks consist of?  
As the Assistant Athletic Director for Communication, I am responsible for the oversight of all marketing and communication efforts that come out of our department. This includes website maintenance, graphic design, photography, media relations, writing, statistics, and much more. I work with conference and national groups on awards, oversee game contracts, and am the official historian for the athletic department. I am also on the Integrated Marketing Council, the Hall of Fame selection committee and a member of the statistics and history committee for the NAIA Sports Information Directors Association. I have specific sport oversite for men's and women's cross country, men's soccer, indoor volleyball, beach volleyball, men's basketball, softball, and track & field while our assistant SID oversees women's soccer, men's and women's golf, women's basketball, baseball, and esports.
What skills are important to be successful in a position like yours? 
Obviously, the biggest requirement is the ability to communicate, in many different ways to many different audiences. A broad knowledge is necessary in a wide variety of computer software for photo editing, website management, and recording statistics for sports. A wide knowledge of all the sports we offer is also essential.
What is the most difficult aspect of your job? What is the best?  
Time management and a solid work/life balance are always a struggle as certain times of year demand a lot of hours depending on which sports are "in season". The best aspect of my job is getting to work with student-athletes and celebrate their successes on the field, in the classroom, and as champions of character.
What led you to this career path and to working at Bushnell?  
I started working with the Sports Information office when I was an undergrad at Biola University. I fell in love with the job, and directly out of college was hired as the SID at Concordia University in Irvine, California. After five years there and a brief stint at a junior college in Southern California, I answered the call to move to the Pacific Northwest as Bushnell (Then NCC) had just created their first full-time position in Sports Information.
What is your favorite thing about Bushnell? 
Having a close-knit community. Our core athletic staff has been together for over 16 years and we are more family than just co-workers and it has made this an incredible place to work.
Bushnell's 2023-24 fall sports seasons are well underway, with basketball season just around the corner. For more information and the full athletics schedule, visit www.bushnellbeacons.com.