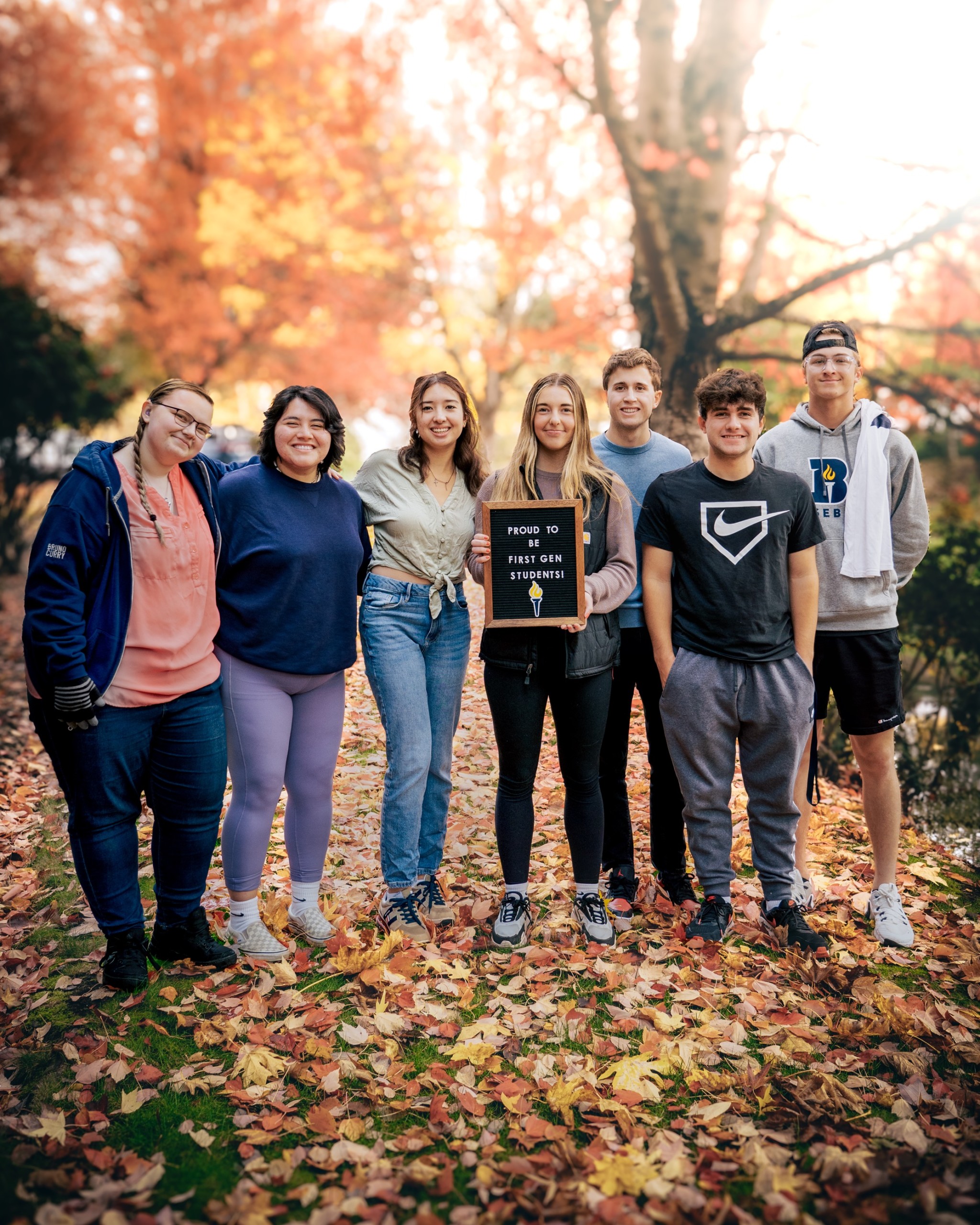 EUGENE, Ore. – On November 8, Bushnell University celebrated First-Gen College Day, a day dedicated to honoring and supporting first-generation college students. These individuals – whose parents did not attend college – often face unique challenges in their pursuit of higher education. However, stories of resilience and determination from both Bushnell University first-gen college students and faculty members serve as a beacon of inspiration for current students navigating their academic journeys. 
Tammara Bovee, M.S., Assistant Professor of Exercise Science at Bushnell University, vividly remembers the moment that fueled her determination to succeed. She recounts how a professor shared a personal story about how he paid his way through college: he would work in the woods from 4:00AM to noon before attending afternoon classes. His dedication motivated her, reinforcing the belief that she too could overcome obstacles. Bovee emphasizes the importance of support systems, crediting her grandparents and active involvement in clubs for providing essential encouragement during her college years. Her advice to current students centers on building social connections and maintaining a consistent routine to enhance academic performance. 
Doyle Srader, Ph.D., Professor of Speech and Communication also highlighted the importance of building social connections. He found solace in joining Baylor University's debate team during his first-gen college experience. The sense of community and mentorship from older peers guided him through challenges. Dr. Srader stresses the significance of acknowledging shared struggles among first-gen students and encourages them to seek help without hesitation. According to Dr. Srader, humility and boldness in asking for assistance are key to overcoming obstacles in college. 
Business professor Peter Diffenderfer, Ph.D., emphasizes the importance of taking responsibility for one's education and proactively seeking help when needed. He urges incoming first-gen students to familiarize themselves with available resources, engage with instructors, and actively participate in campus activities. Dr. Diffenderfer's advice underscores the transformative power of proactive learning and engagement within the academic community. 
Freshmen teacher education major Maxwell Al-Rubaie and junior business major Davis Kyser have taken this advice to heart. Al-Rubaie encountered his share of challenges in navigating the intricacies of campus life, especially uncertainties about dormitory essentials, a fear shared by many new students. However, his determination to overcome these obstacles led him to proactive solutions. By connecting with an understanding roommate ahead of time, he not only eased his worries but also demonstrated the power of resourcefulness and collaboration. 
Kyser's major challenge was giving himself space away from his studies while also succeeding academically. Despite the initial difficulties, he learned the importance of asking the right questions and seeking help when needed. His experience taught him that while intelligence is valuable, the primary key to being successful "is the ability to ask questions and collectively form better questions to reach your intended and desired result. You can accomplish so much more if you just ask, if you just admit that you need help."  
As Bushnell University commemorates First-Gen College Day, the stories of these remarkable individuals serve as a reminder of the university's commitment to wisdom, faith, and service. These journeys reflect the resilience and determination of first-gen students, and they remind all of us of the privilege that education represents and of the lifelong lessons it imparts. These stories embody the essence of faith in oneself – in one's abilities to overcome challenges – and in others – in the support that is available when we support each other in community.