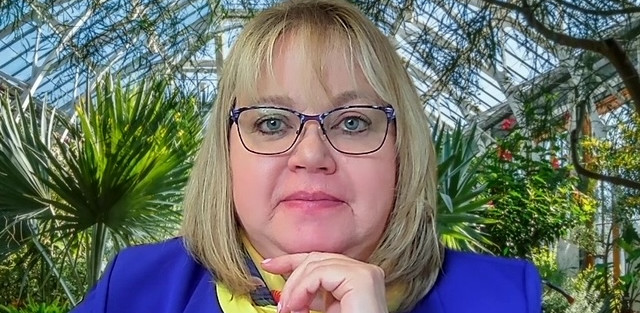 Bushnell University's School of Business Leadership and Technology has hired an experienced, innovative accounting faculty member to head up its Accounting Programs.
Prof. Shelly Hartzell, M.S.M., CPA, CMA brings a wealth of practical experience to the university's growing accounting programs, having served as a corporate accountant and CPA for more than 20 years. She will begin as a faculty member and Accounting Program Lead in the School of Business, Leadership and Technology, Aug. 1.
She comes to Bushnell University having served as an accounting professor at Warner Pacific University in Portland, OR for more than twelve years. She has a heart for teaching and a passion for making accounting accessible to all learners. Integrating faith, ethics, and purpose into her classes, Prof. Hartzell has been awarded the Outstanding Teacher of the Year award by students and the Excellence in Teaching award from faculty, at Warner Pacific University.
Prior to her university teaching career, Prof. Hartzell was a Corporate Tax Manager and held prior positions as Senior Staff Accountant, Internal Auditor and Controller, as well as a public accountant. She is a member of the Oregon Society of CPA's Young Professional's Committee, dedicated to helping new accounting professionals' network with the community.
Bushnell University offers several unique accounting degree options including a traditional Undergraduate Bachelor of Science in Accounting, a fully online Bachelor of Science in Accounting and a new Accelerated Dual Business Degree Pathway where students can earn a Bachelor of Science in Accounting and a Master of Business Administration in under 5 years.
About Bushnell University
Bushnell University transforms lives. Devoted to offering a Christ-centered environment since its founding over 125 years ago, Bushnell encourages students to pursue wisdom, nurture faith, and champion service. Accredited by the Northwest Commission on Colleges and Universities, the University was founded in 1895 by pastor-educator Eugene C. Sanderson and pioneer businessman and church leader James A. Bushnell. The University offers bachelor's and master's degrees in traditional undergraduate, adult degree, and graduate program formats, as well as online programs for MBA, MA in Leadership, and M.Ed. More information about the University is available at www.bushnell.edu