Eugene, Ore.—- For 22 years Dr. Dennis Lindsay has served Bushnell University with excellence and grace spanning three different University presidents. The past 17 years he has served as the Vice President of Academic Affairs (VPAA) and it is "with a mixture of excitement and loss" writes current President Dr. Joseph Womack "though I am personally very sad conclude our daily partnership, I am thrilled that he and Karen are able to return to Germany and continue their excellent contributions to the study of Christian origins."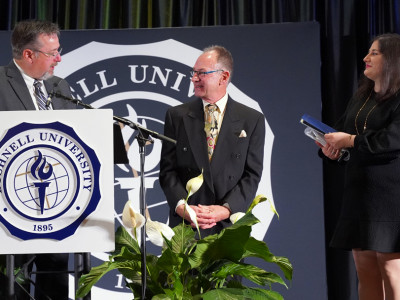 August 1, 2022 Dr. Lindsay will begin a year of sabbatical directing the recently acquired NetVUE Grant Program for "Reframing the Institutional Saga on behalf of Bushnell." Dennis and his wife Karen plan to move to Tübingen, Germany in fall 2022 where Dennis will assume the role as Director of the Institute for the Study of Christian Origins—a "heritage" mission site sponsored by the European Evangelistic Society (EES).  Where they have been involved for over 40 years, and Dennis has been the board chair of the EES for the past three years.
A wide search in conjunction with a search consultant was conducted for Dr. Lindsay's replacement with the result of Dr. Reed Mueller being named the VPAA. Dr. Mueller will join the University in August.
On Thursday, May 5th at 7:00pm the Bushnell alumni and friends gathered for a celebration in honor of his 22 years of service and leadership. The event was hosted at the Valley River Inn.
About Bushnell University
Bushnell University transforms lives. Devoted to offering a Christ-centered environment since its founding over 125 years ago, Bushnell encourages students to pursue wisdom, nurture faith, and champion service. Accredited by the Northwest Commission on Colleges and Universities, the University was founded in 1895 by pastor-educator Eugene C. Sanderson and pioneer businessman and church leader James A. Bushnell. The University offers bachelor's and master's degrees in traditional undergraduate, adult degree, and graduate program formats, as well as online programs for MBA, MA in Leadership, and M.Ed. More information about the University is available at www.bushnell.edu